Seems like your average run of the mill day. I was tired as shit and still am. I'm on about 7 hours of sleep over three days. My friends and kids at school are going to kill me this month.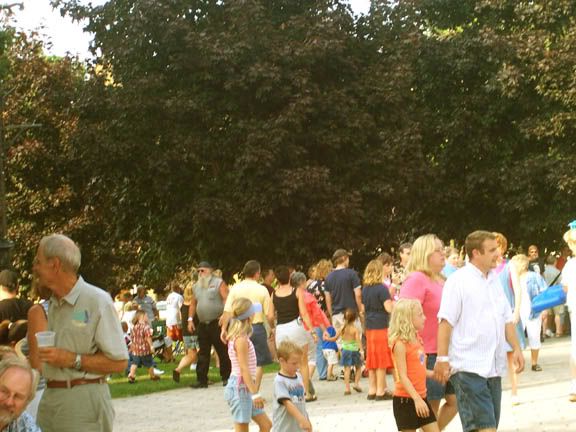 The picture above is what I did instead of taking a nap. It was Friday and that means Party In the Park. I only knew a couple of people and that isn't too unusual. Lots of people. Lots of brews. No sleep.
So, last night we were throwing a surprise b-day party for Andrea and needed supplies. Meijer was full of wackos last night since it was the first day of sales of Harry Potter starting at midnight. Check out these people. The sad, but puts a smile on my face, thing is this is a normal Friday night in Skee-town...

Can I talk about the party? I can't post any of the pictures. I don't even know where to begin or explain how only six people can be so out-of-control. Did I fall asleep and dream I was at Muskegon's version of the Playboy Mansion or what? I think I will have to write about this at another time once I have had my sleep and have processed what had happened at this party...
Anyway, you people out there bitching that there is nothing to do in Muskegon are lame asses. There are tons of things to do in this town and most of them are cheap as shit. The drive-in, beach, baseball, festivals, bowling, bars galore, on, and on, and on... I lived in Chicago and had fun. But, it was costly and I sometimes had to save up to go on a night on the town. I'm not even going to explain GR. Just overpriced and full of jerks. Muskegon is cheap, hilarious, and laidback. And if there is nothing to do you have to make your own fun. Ok? OKAY! That's my lesson of the day.