Another wonderful night in Skee-town. I looked at my bank statement yesterday and came to the realization that I could afford to live this way FOREVER! Since moving to Muskegon, I have not had to pay one bill for anything because I don't own anything except for bar tabs. I have a low wage job, yet it is enough to cover my entertainment expenses. If I get that high wage job I hope to get that would mean I could afford the lifestyle of a rock star to go along with the partying!
The night started out at Lakeshore where there was some country rock rockabilly thing band playing. They were alright, but we had to move on because we had bigger and better plans for the evening.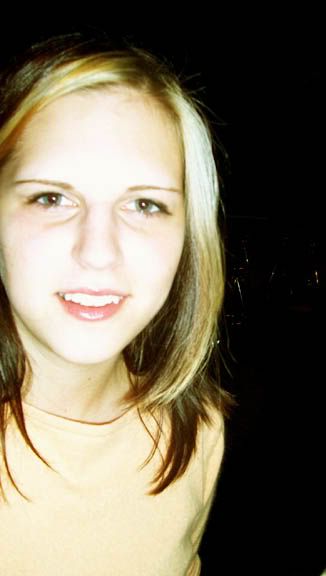 Those plans were to go to Mo'z. Muskegon's finest gay bar. Otherwise know as the Gay Lobster because it is in the old Red Lobster building. It's a pretty classy place. One of my friends, who's identity cannot be revealed, joined us and seemed to have a good time. He kept pointing out that I was getting checked out by other guys in the bar. Monty said "It's because you have a kind of Jude Law thing going for ya." Jude Law? That's a first. The most common comparisons I get in order from highest to lowest is 1) Billy Joe Armstrong from Green Day (when hair dyed and all) 2) Leonardo Di Caprio 3) Brad Pitt 4) Eminem 5) "that guy from '13 Going on 30.'" 6) now Jude Law. Personally, I think it is my diet and exercise program I started recently. I've lost 10 lbs., gained quite a bit of muscle, and getting closer to gettting a six pack. I just need to lose about four more pounds and keep up my exercises. Maybe I will look like Danzig someday.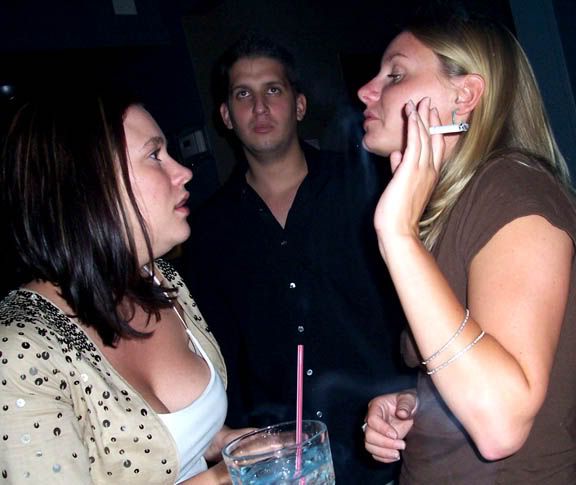 WATCH OUT GIRLS! THERE'S A TERRORIST BEHIND YOU! I really shouldn't say that because I pick on him all the time and he only responds to me with, "This guy here is the best guy in the world." Hasan, the terrorist, told me last night "everyone in Jordan is just like you. I've been here for four years and you are the first person I met that is like my friends back home man." What the fuck? You mean Amman, Jordan is a place full of people like me? The last place I would have looked is in the heart of the Middle East. So, next time he goes back home I told him I want to go. I am facinated by this. Plus, it's pretty close to Iraq. We could go for a lazy Sunday drive to Baghdad and look at all stuff that has been on the news for the past few years.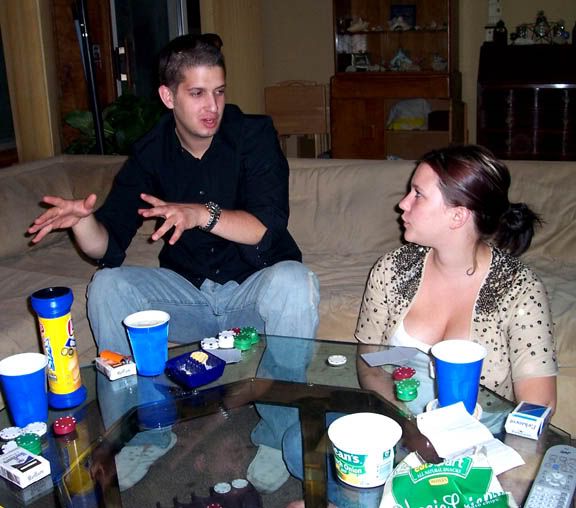 After closing down Mo'z, it was a night of Texas Hold'em at Amanda's. I need to figure out time to sleep. I slept three hours a couple nights ago. Passed out for two hours before going to Lakeshore yesterday afternoon. Around 4 am last night, I fell asleep playing poker sitting in a chair with my chin resting on my hand. I need to go to bed and will do so real soon so I can do it all again tonight.
Talking about tonight, I will be going rollerskating dressed in 70's attire. Amanda has requested that I wear the "hot pants" tonight. I will appease her. I haven't been to Skate Zone since I was eight. I should sleep now so I can leave at 5 pm. We are going there early because we are going to have their pizza for dinner.
Even though I feel kind of screwed up these days, at least I have great friends who I've known forever, are trustworthy, and fun.