I watched Office Space last night and it was a lot funnier to me now that I work in an office. Some food for thought...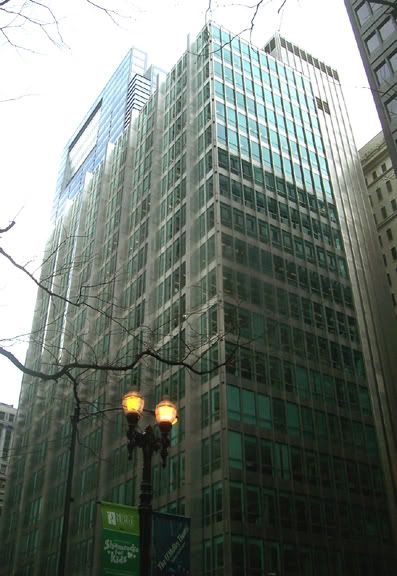 Inland Steel building. For some reason, this seems very French Modern to me.



Xerox Building by CF Murphy under Helmut Jahn's direction. It's no longer called Xerox, but I have a difficult time remembering addresses to all of these newer buildings.



Marc Chagall mosaic at Exelon Plaza (?). This is the former Bank One Plaza, which was the former First National Bank of Chicago Plaza. Then Chase Bank bought Bank One and sold the naming rights to Exelon, I believe. Can't we just name the plaza after someone important instead of some corporate conglomerate? How about Abe Lincoln Plaza? Done...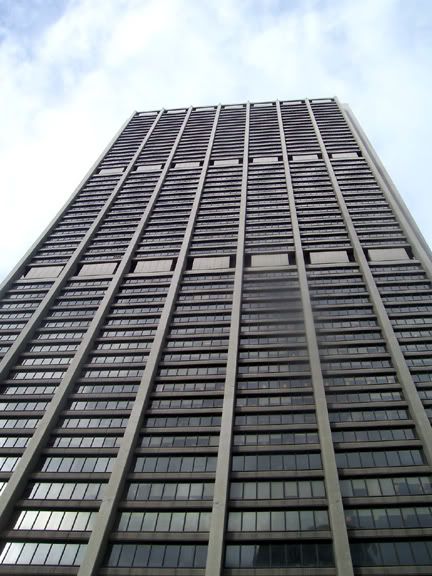 This is my bank. Chase Tower is pretty cool since it curves up. It doesn't show up that well though. Although, for all of you in Muskegon, Michigan, St. Francis de Sales church is way cooler.



1 S. Dearborn. I really like this building. I actually lived in an apartment right behind this at State and Madison. I saw the old warehouse they tore down brick-by-brick for this. I'm really glad they didn't construct this while I lived there though.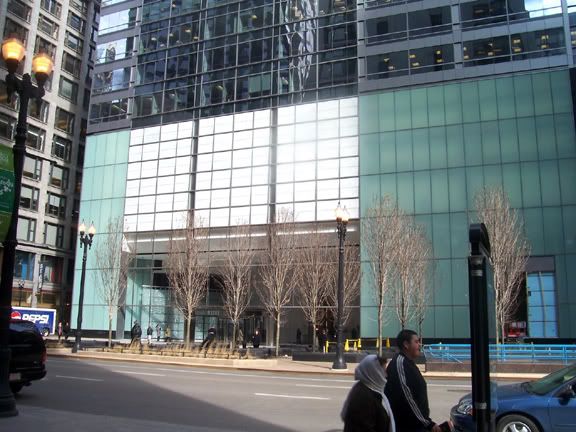 1 S. Dearborn again. The green and white parts light up at night. What's really cool is the white part is marble. It's cut so thin that light actually passes through it.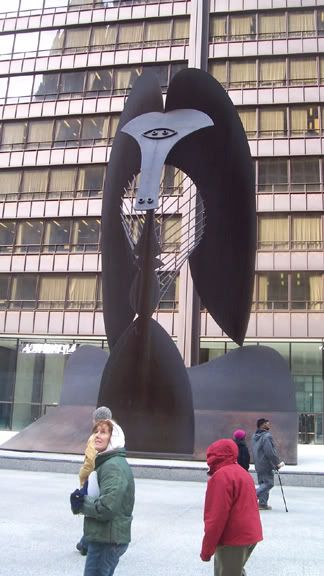 Picasso at Richard J. Daley Plaza.



This building was the County Building and the Brunswick Building. It's been renamed again this week. It looks like the George W. Dunn Building if I read the picture below correctly. This is all concrete. That's pretty crazy. I really like this building at night and it's all lit up though.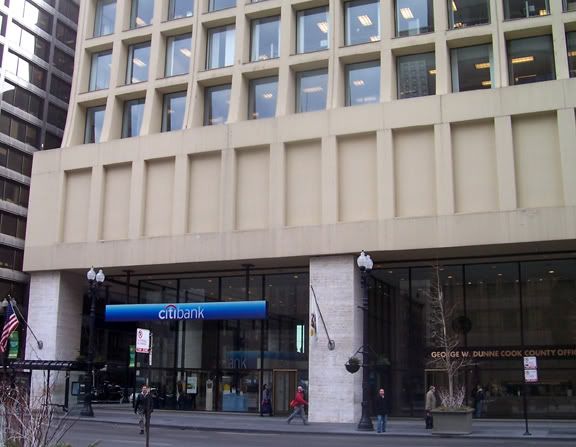 See the floor without any windows? That floor is a support beam that is necessary to hold all of the weight of the concrete above it. That's got to be somewhere in the 12-15 feet tall range...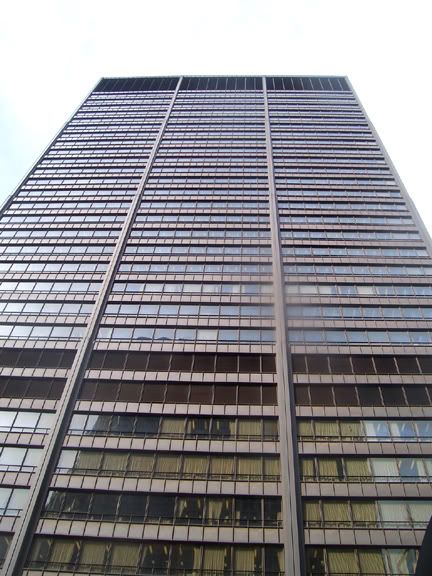 This is the court house in Chicago. There are only four columns for a building that spans an entire block. They are spaced over 86' apart from each other so the interior can be wide open.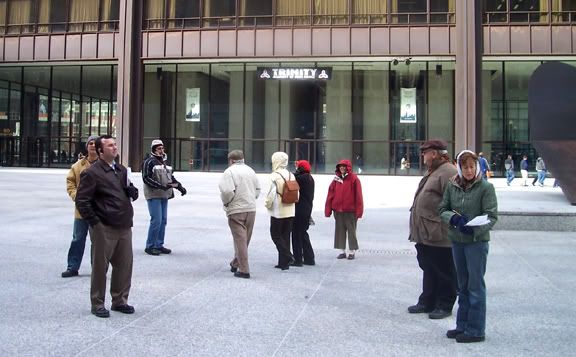 Here is my class being impressed with facts and statistics.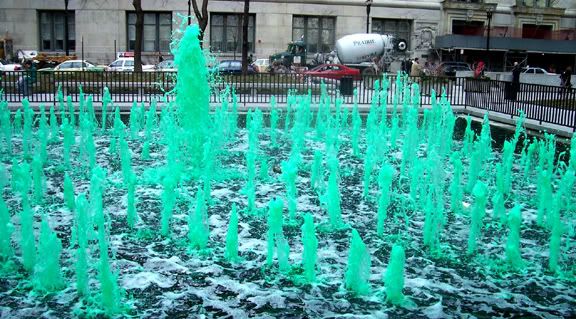 Yet, I'm more impressed with green water. Go figure...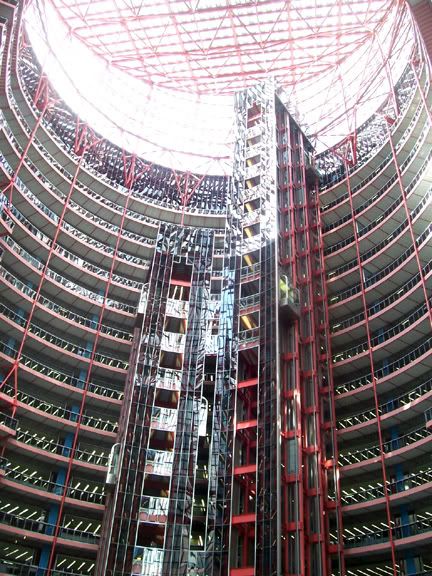 Helmut Jahn's James Thompson Center. It's a cross between a mall and a government building. I really like the building, but the philosophy of the building doesn't work in the pragmatic world we live in.



If I remember correctly, William Shatner had some kind of futuristic laser cop movie filmed here.



The stairs look cool, but you'd never see me walking them with my fear of heights.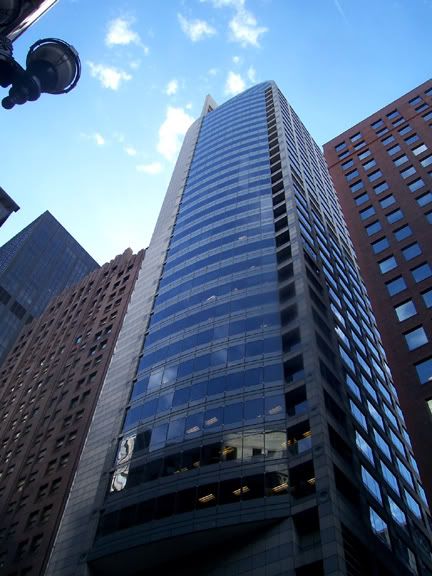 Helmut Jahn again at something North LaSalle. Again, I'd like to rename this building instead of having a corporate or address name. This will be the Mailbox Building since it's shaped like a street mailbox.

PS - The USPS is coming out with mailboxes painted like RD-D2 from Star Wars to celebrate the 30th or so anniversary of the movie. If I find one, I'll take a picture of it with all the Star Wars nerds trying to steal it...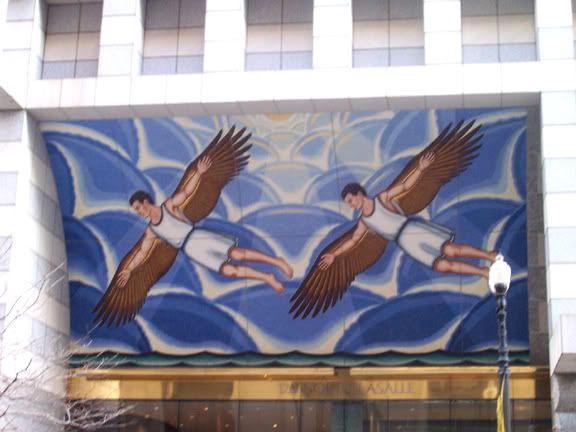 A mural on the Mailbox Building of Icarus flying too close to the sun. It's a warning to bankers to not spend other people's money on high hopes or something.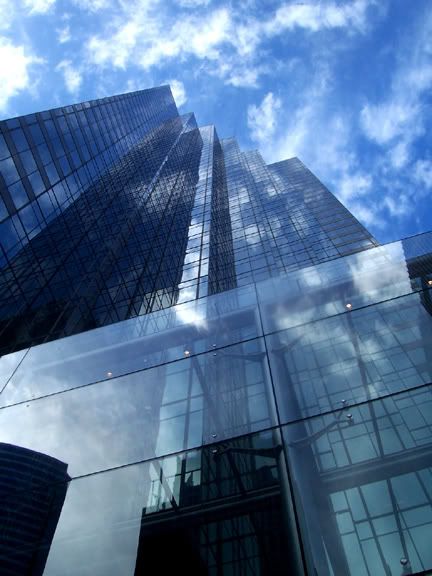 I don't know what this building is called, but it photographs well.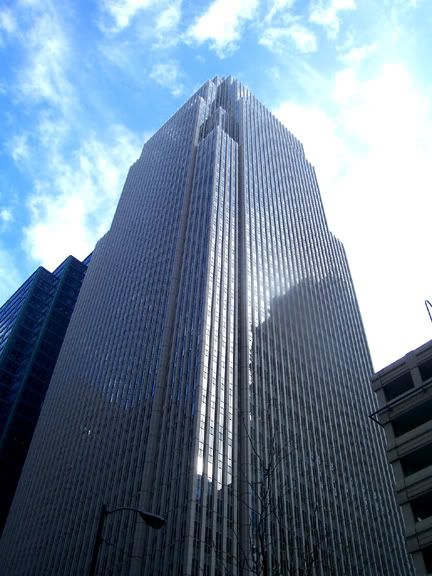 Caesar Pelli (sp?) building with another address name. I don't know what I should call this building instead. I'll think of something later....




I don't know what this is. I don't ever recall seeing this building before. It looks like it was built sometime in the 1920s.



Caesar Pelli's (sp?) address building again. This room could use a little color. Something a bit more impressive in scale than Frank Stella's stuff.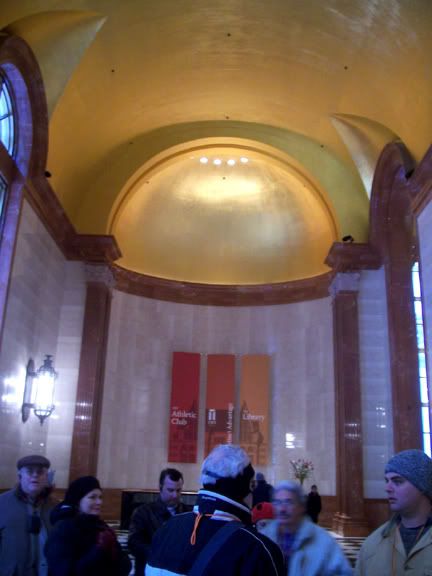 120 S. LaSalle. Another damn address building. Since the Masonic Building by Root inspired Philip Johnson's design of this building, I'll call it Masonic II. It's like a church inside this place.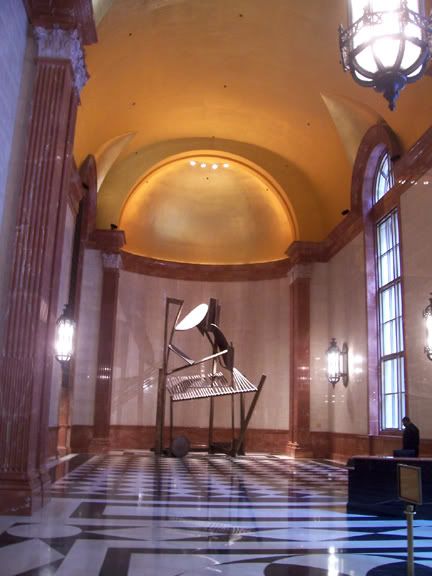 Anthony Caro's Chicago Fugue. The more I look at art, the less of an artist I become...



I forget who made this, but it's a fabric piece depicting Burnham and Bennett's 1909 Plan of Chicago.



Sears Tower. All 110 stories of it. All of Muskegon could live in this building and still have room for more people. Think about that...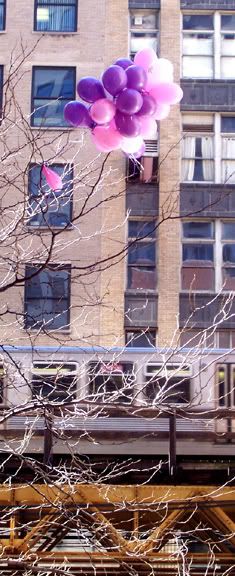 My American Beauty moment in Chicago.



The angry mob heads to the downtown St. Patty's Day parade right across the street from me at work.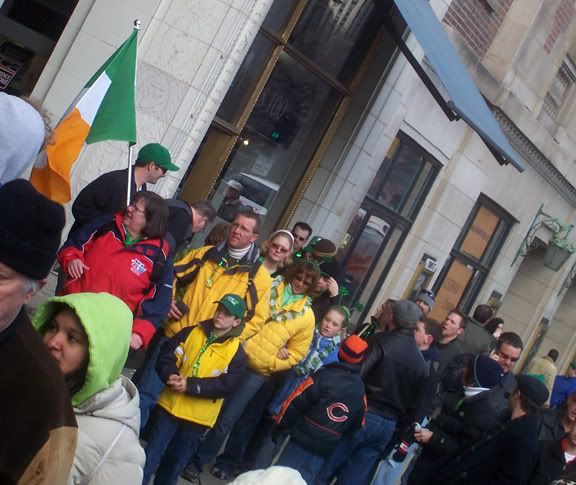 Look at what I had to deal with that day. I actually think on days like this I should not bother trying to get my job completed and just let the madness take over. It wins every time already...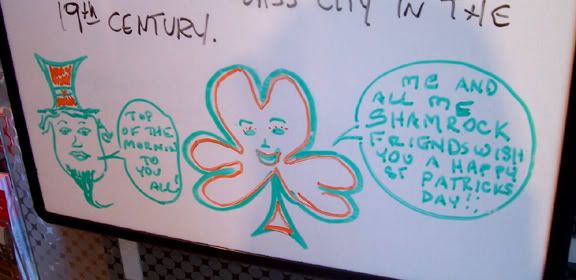 Steve amazes me more every day. He has a volleyball tournament at the end of the month. I'd like to check it out.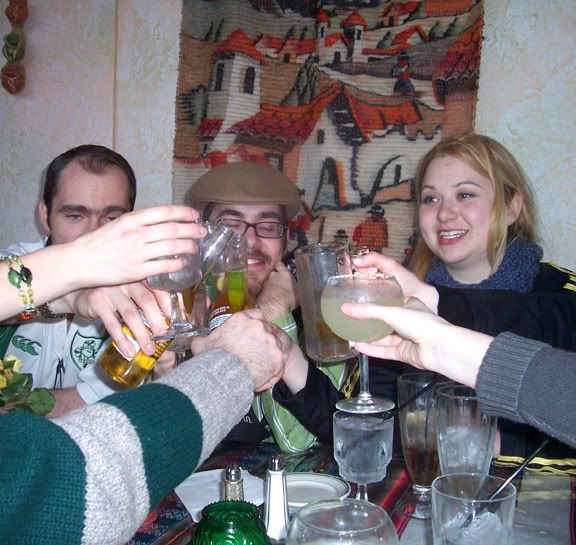 Nothing says "St. Patty's Day" more than going to a Mexican restaurant. Although, we tried going to several other places and this was the only one where we didn't have to wait two hours for a table. So,
¡Día de los St. Patrick felices del!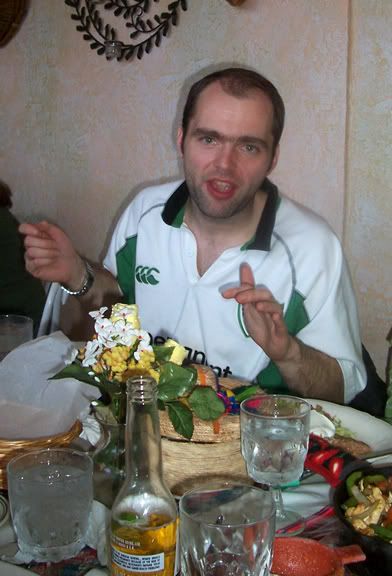 Despite having marguerita's and Corona's, Ronan proclaimed "This is what St. Patrick's Day is all about." Since he's from Ireland, I will not challenge his statement.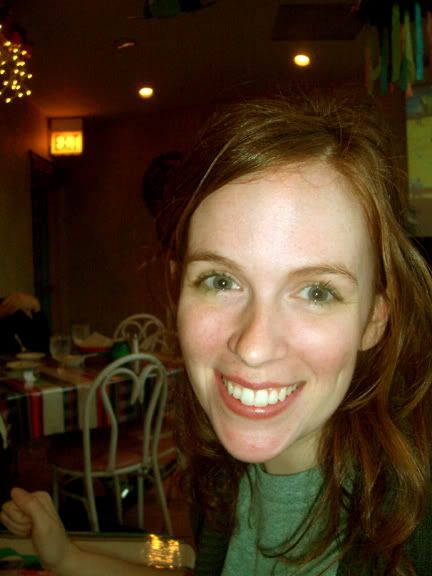 St. Patty's Day List:
Drunk Irishman - check
red head - check
leprechaun - still looking.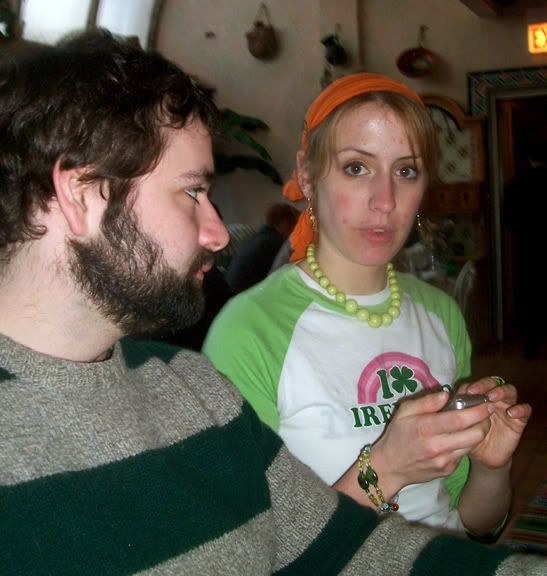 John and Katie. She's never going to get her food. Never...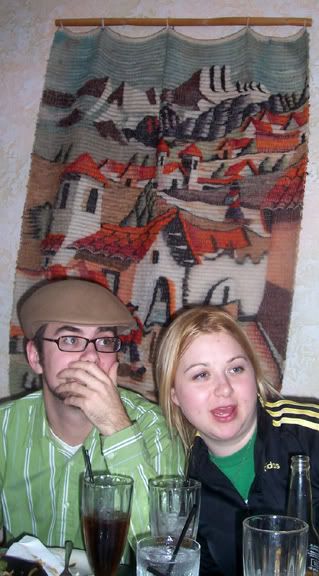 Liam and Bess. I'm not sure what they are looking at, but I'm very glad to see that Liam finally got his Coke.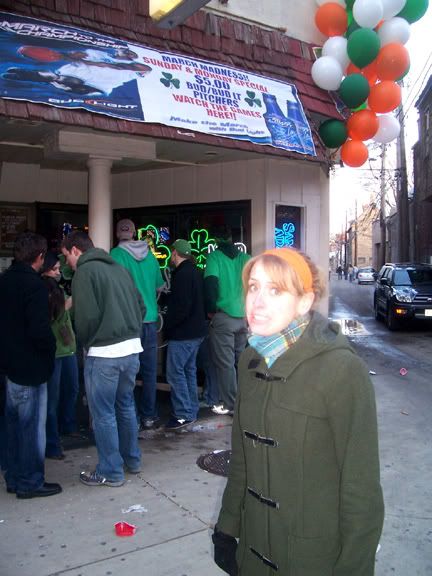 Katie. Could you explain to me why your face is glowing?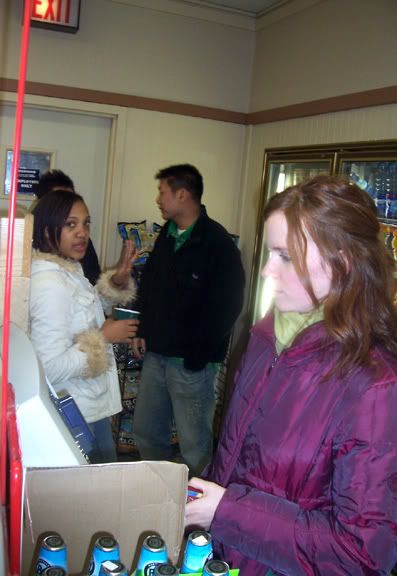 Megan and I making new friends at the White Hen.



Murder House: We need to go to Rose's on Lincoln sometime. It's really good. Really cheap. Pool table is 50 cents and always open. Oh yeah, they have couches all over too. It's like our apartment with a liquor license.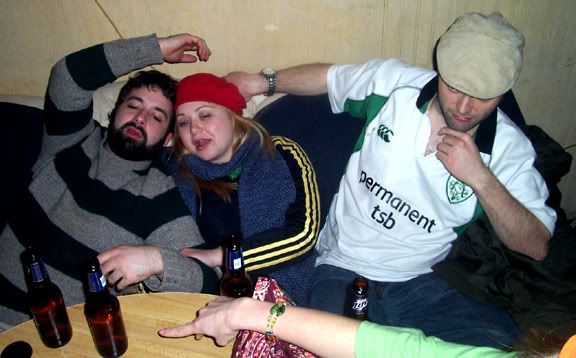 John, Bess, and Ronan probably about 8pm.



Abbi (sp?) saluting his very Irish heritage.



Look at these Mc's.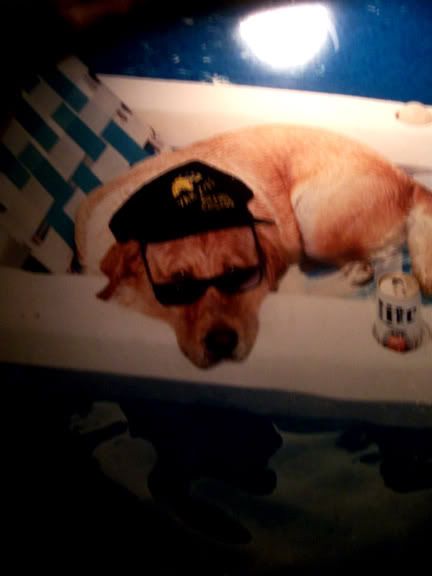 This dog about sums it up for me...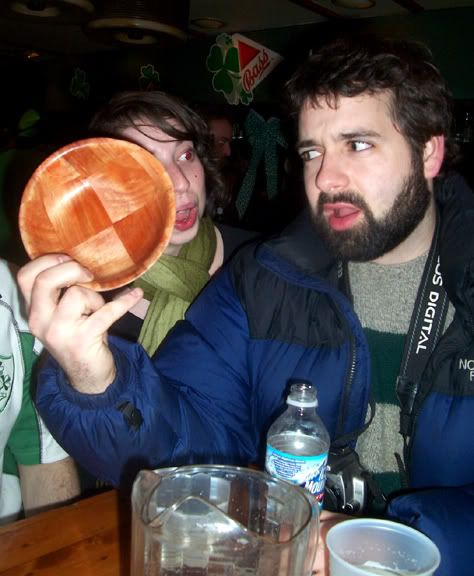 Annie and John at some other joint on Diversey. Yaksie's or something.
I know there are some other good pics from that night. Sometimes, it was like the paparatzi (sp?) at the bar. Place links on your comments.
xoxo,
Mike