I'm the Rick St
eves' of Chcago...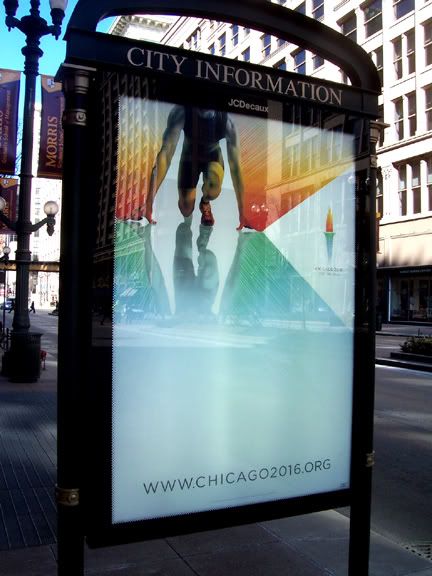 The way we are talking about the 2016 Olympics, you'd think that the International Olympic Committee actually gave it to us.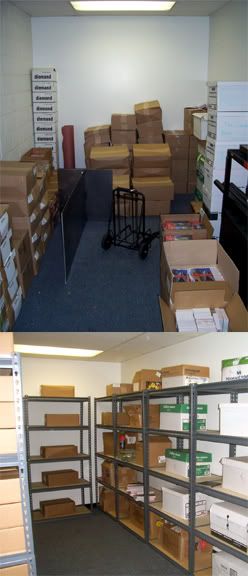 This is a project I did at work. It's a "before and after" image. Can you believe that it took me about five months to get the meetings, planning, approval, purchasing, and installment of this? Now I have to try to maintain it...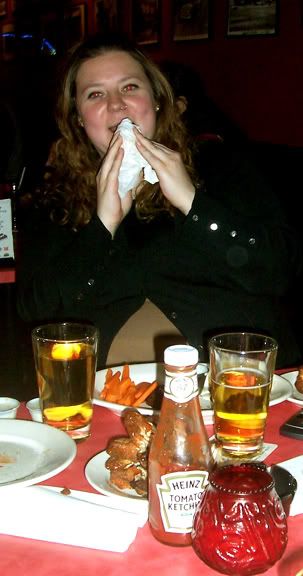 SME at wings!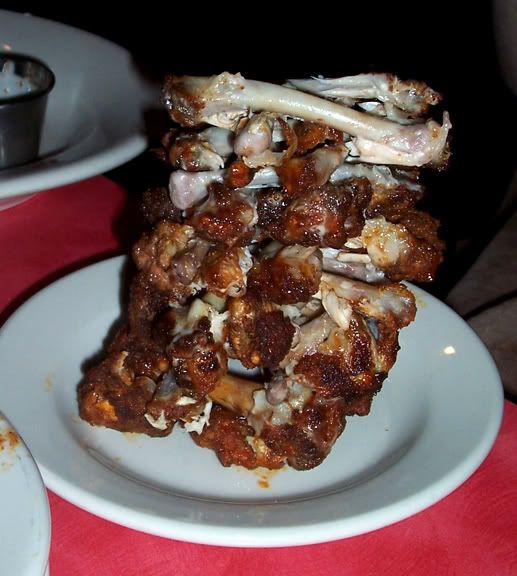 Inspired by
The Adventures of Pete & Pete
, Tyler stacks his wings.
Somehow, we bumped into Amanda on the CTA on our way to the Southside St. Patrick's Day Parade (A religious holiday, ya know). She started things off right by puking out of a moving train. That poor man sitting in front of us...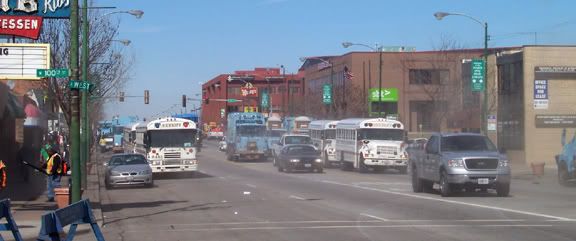 The parade was over by the time we got there, but all of the fun is afterwards anyway. Here is the clean up crew getting organized.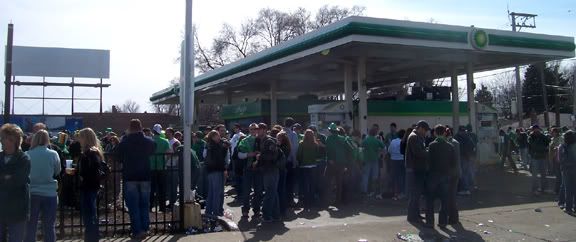 Ever see a more popular BP gas station?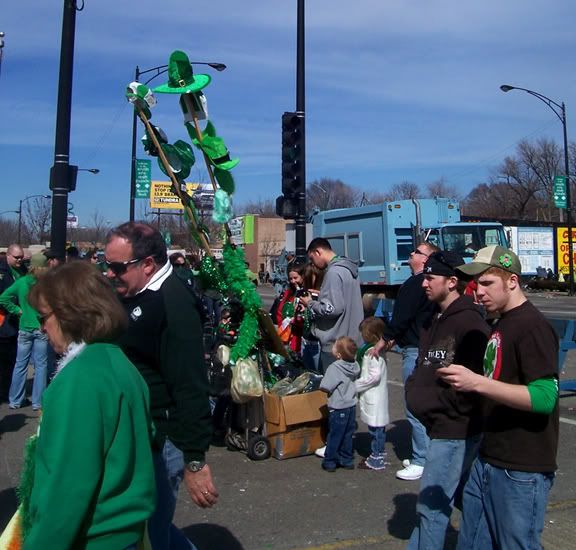 Mobs of people everywhere!
This is an alley off of Western Avenue. For miles down the road, there are people and parties.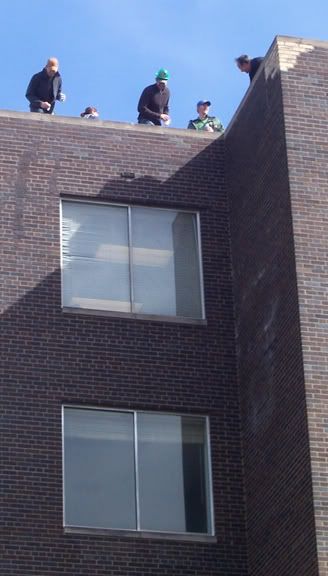 These guys were pouring beer into people's mouths from about eight stories up.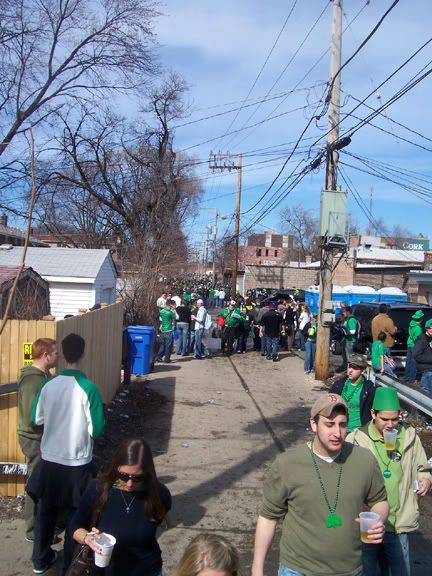 Look at the mob of people. The best part is drinking on the street. I've never seen so many open containers!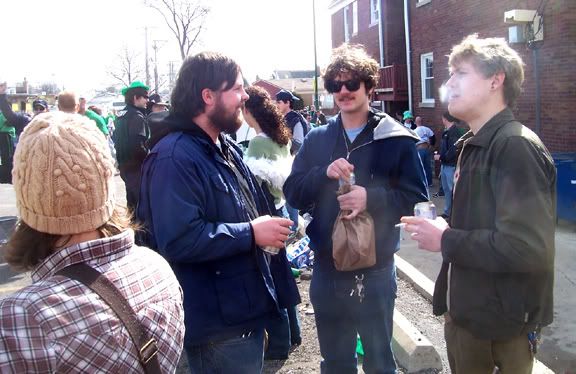 Back of Amanda's head, Mike, Nick, and Tyler in the alley.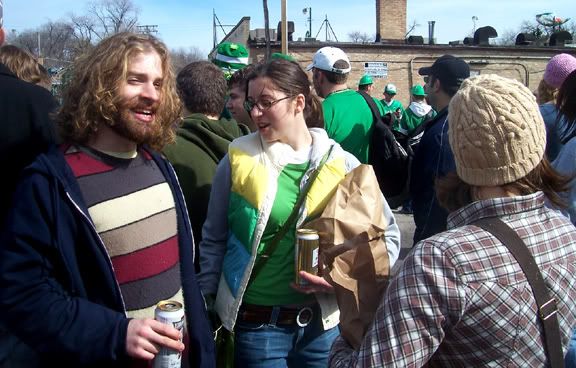 Matt, Julianne, and the back of Amanda's head.
This is an epic shot. Here we have our heroes, Megan and Amanda, facing a giant Leprechaun scourge while the masses flee the scene.
Mike on Western Avenue posing for his newest MySpace profile pic...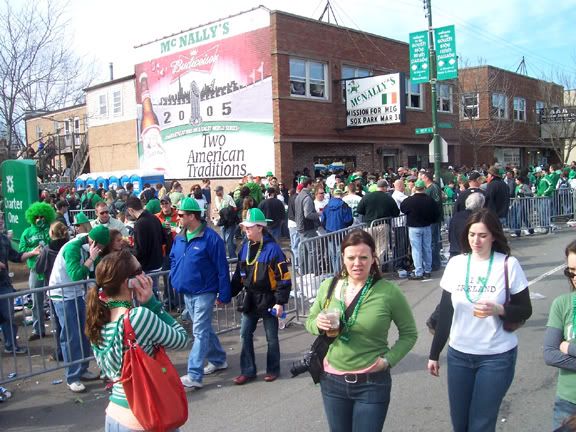 The owner of this bar probably paid all of his bills for the year in one day.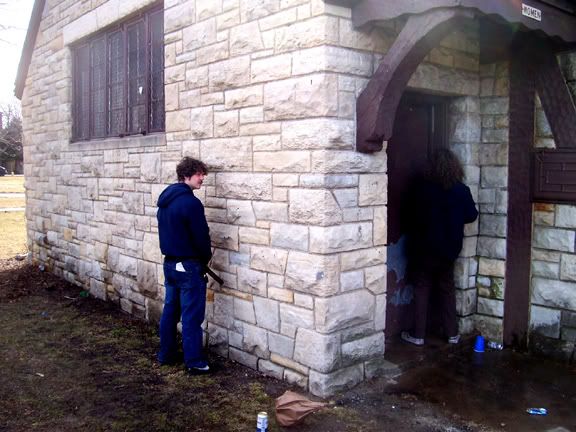 Nick and Matt pissing at an elementary school where a rugby game was taking place.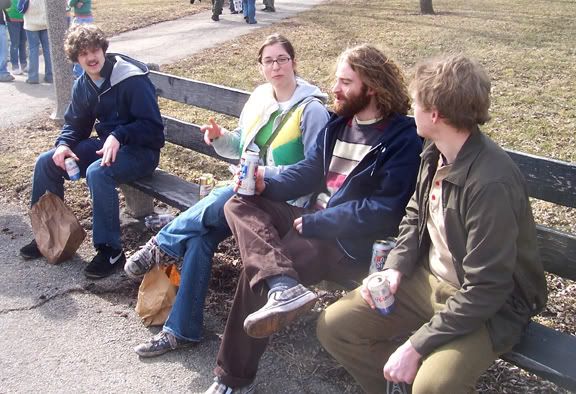 Nick, Julianne, Matt, and Tyler at the school.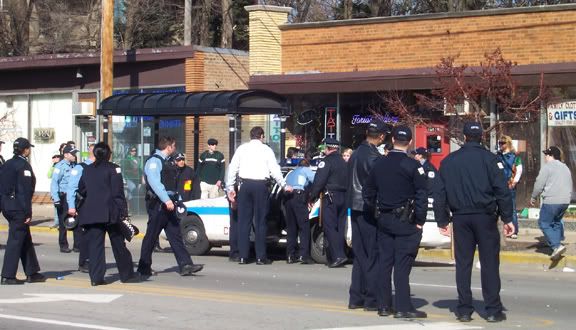 Not sure what happened here. But, the cop was driving down the road and then threw his car into reverse. Squealed his tires as he came back, jumped out of the car, threw a kid on the hood, and a swarm of cops came to prevent a riot. Pretty tense moment. My guess is the drunk kid threw a beer can at the car or something.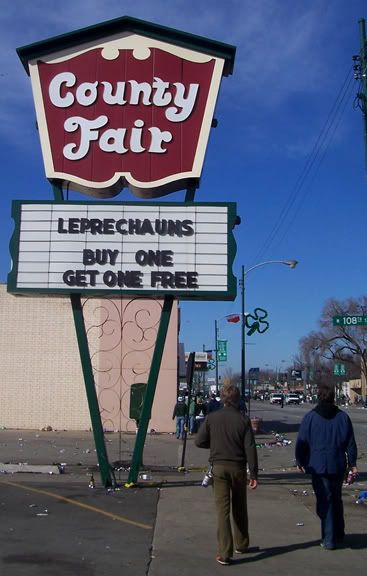 Nothing like getting two leprechauns for the price of one.

The CPD clearing the street for the street cleaning.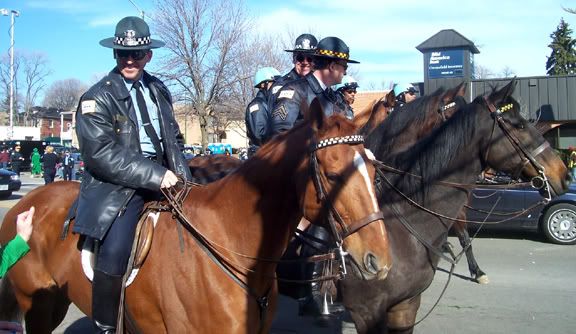 The cops are talking to a really drunk girl who's hand you see on the left.
Girl: What's the horse's name?
Officer: It's Officer Farley.
Girl: Officer Farley?
Officer: Yep.
Girl: That's a dumb name for a horse.
Officer: It's time for you to go.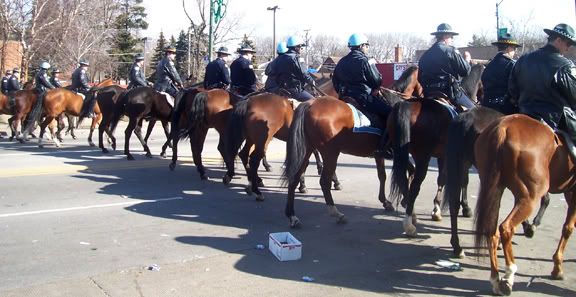 The battle of cops v. drunks is about to commence!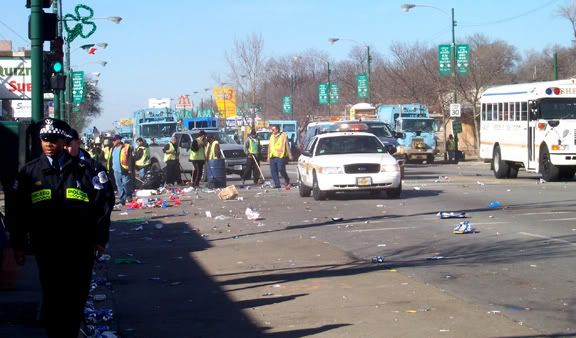 If this were Michigan, they wouldn't need a clean up crew. At 10 cents a can, every homeless guy in the tri-state area would be here picking up this canned gold. Now that's a way to save taxpayers money and help those in poverty.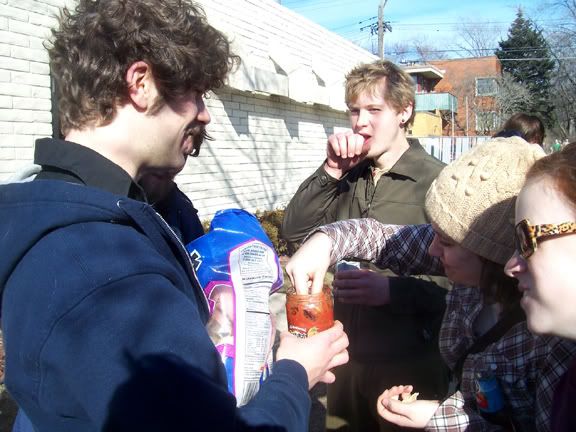 When thousands of people are swarming restaurants and you are drunk and hungry, there is nothing like finding a bag of chips and salsa. God has been good to us on this fine St. Patty's Day. Manna from heaven!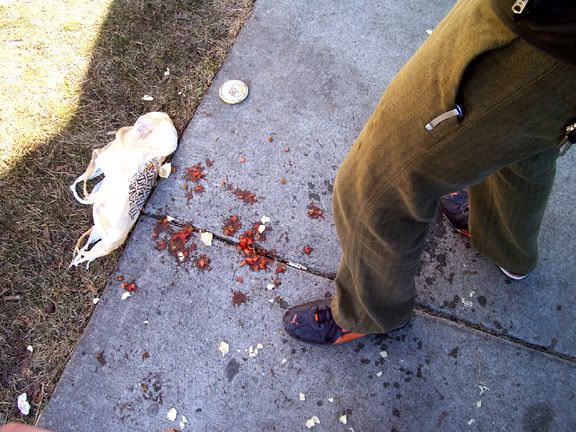 We attacked it like wolves. Gluttonous vultures!
Surprisingly, no one wanted the tuna sandwich. Especially the girls next to us.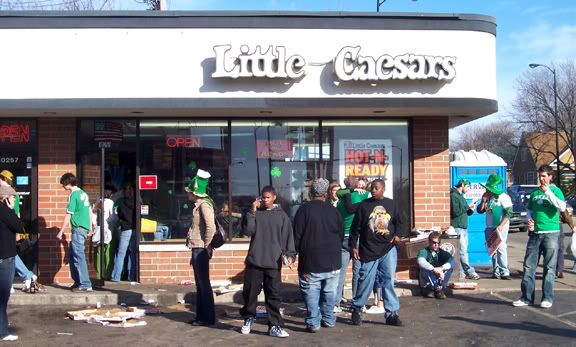 Fine young Irishmen standing outside of a fancy Italian eatery.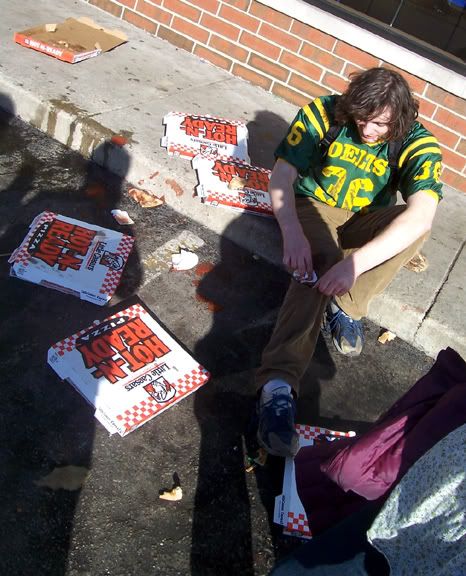 The way this man looked, I'm guessing he ate all the pizza that was in the boxes surrounding him...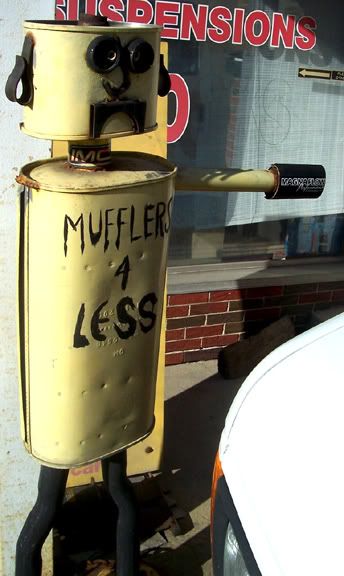 Muffler man!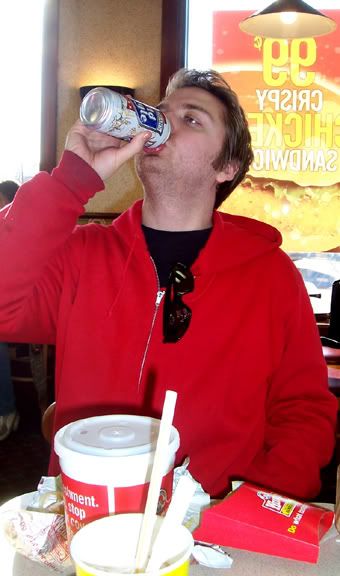 WENDY'S PROPOSAL:
Dear Wendy,
I think you should serve beer (specifically Old Style) at all your restaurants. Not only will you sell a lot of beer and make lots of money from that, but it makes your food taste really good.
Sincerely,
Mike Kraus
PS - Beer makes your ice tea taste like piss. You'd think it would be the other way around...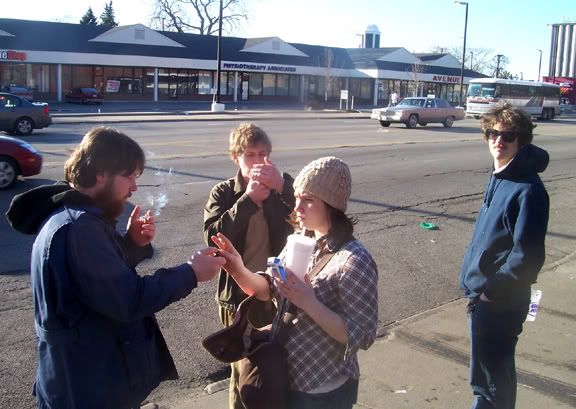 Mike, Tyler, Amanda, and Nick waiting for the bus on 95th and Western.
Amanda, Mike, and Tyler on the Red Line heading back home. I don't think I've ever been this tired at 5pm before in my life. The best part is I get to do this again next Saturday on the real St. Patty's Day! Yippee!