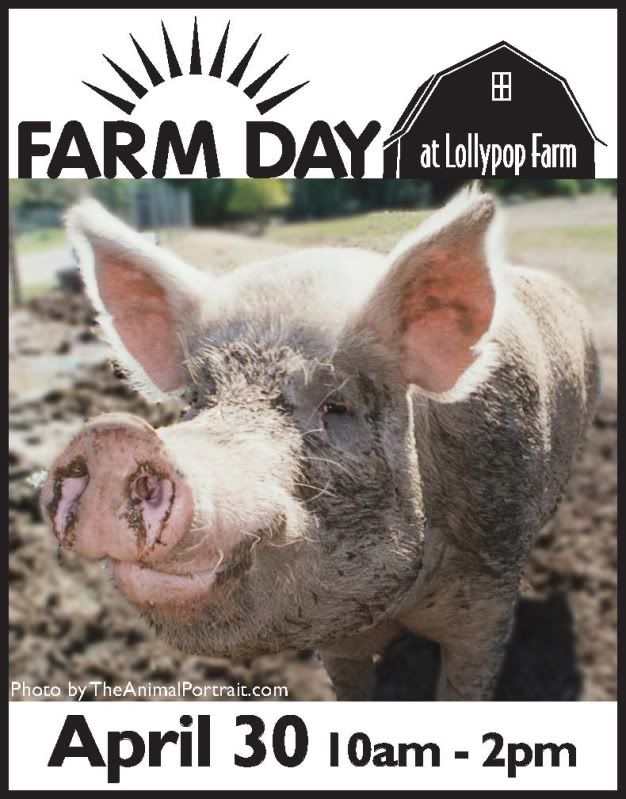 FARM DAY @ LOLLYPOP FARM, THE HUMANE SOCIETY OF GREATER ROCHESTER! I won't be face painting as originally planned, but you'll still be able to see me. Sounds like we're going to have great weather and lots of good stuff. Here's a link and more info:
FARM DAY LINK
Crazy about cows? Hungry for horse kisses? Saturday, April 30, is the day to be down on the farm! Experience all of our wonderful farm animals during our 10th annual Farm Day. The day will feature:
-Animal Cruelty Law Enforcement Officer Meet 'n' Greet
-Kids' Straw Maze, Crafts, Balloons and Face Painting
-Mercy, the painting mini horse
-Pet Assisted Therapy Animals
-Wagon Rides around the Farm Yard
-Food & Beverage Concessions
and More!
There's no entry fee for this educational and fun day for the whole family at Lollypop Farm. Donations will be accepted. We promise lots of farm fun for everyone!