Here's a leftover picture from a previous get together since my batteries died...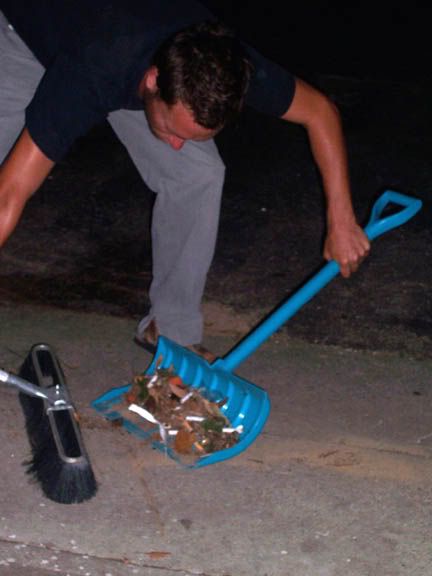 Relaxing night last night. Tania called to see if I wanted to go bowling with the rest of the posse. The first game was pretty much a bowling game and the second game turned into a grudge match. There was all sorts of pushing, shoving, slapping, yelling, and breaking of equipment. Bowling has never been so fun.
Next time I go bowling at Northway Lanes I will have to have my camera. I've never seen a place so full of Muskegon pride. It had all sorts of Muskegon stuff painted on the lanes and all. Plus, you can't beat the price. It is a well maintain and fine bowling facility that only charged $1 per game, hot dogs, and nachos. A poor man can live like a king in Muskegon. Long Live the King!!!
Went to the Vous for a little while. I think the only reason I wasn't tired when I woke up this morning was the fact that I drank so much coffee. Who needs sleep if you have caffeine? Took lots of picture on Tania's camera. Adrian pretty much messed up my hair the whole evening. Colleen wore her hawt bandana, "Hi and bye, Jake," and Bobby knows what he did.
I've been thinking about things recently. I've decided that is time for me to make some progress. So, I applied for a great position and hopefully I will get it. I also have another opportunity to start-up a non-profit youth center in Muskegon. That's along with my other projects. I'm sitting on the edge of doing something really good here. I need to stick to my priorities and move forward. It's time...
But before that happens... Monday Night Club tonight. I hope to see all of my friends there. I won't be in a limo this time, but I wish I was. That is the only way to go to Mike's Inn. No plans for tomorrow other than work. Maybe the drive-in. I'd like to round up a posse to go down there.
Most of you know my number if you want to do something. If not, write me here and I can update you on the rock and/or roll party that is my life...