Pretty relaxing day yesterday. Kinda just laid around the house for the most part. Although, I have to say that the Detroit Tigers did win the World Series on Ken Griffey Jr. Baseball for the Super Nintendo yesterday. Too bad that is nowhere close to reality. Ah, my last summer of freedom.
Check out my new shoes. I got them for my job interview on Friday. They were on sale for $49.99 at Younkers. They remind me of grandpa shoes. In this picture, it looks like my legs are on a table at the morgue. So damn sexy with the white socks and grey pants. How can the ladies resist?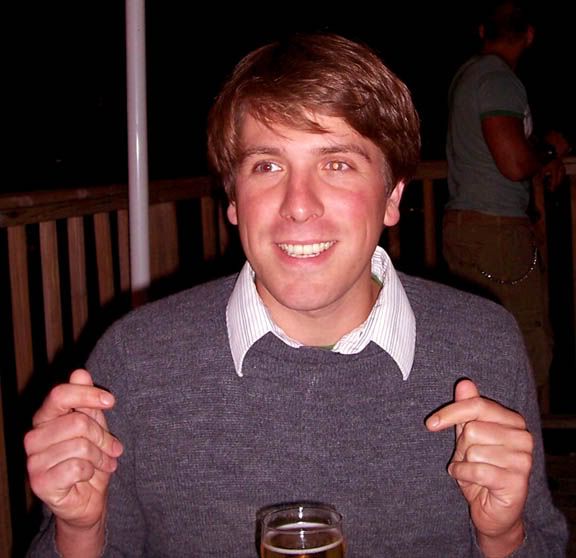 Normally, Jacob is a shy man. But, he requested... In fact, he begged me to post this picture of him. Why? Not quite sure. You will have to ask him. It reminds me of a combination of the cat from Alice in Wonderland, Dr. Evil, and the guy from Sin City, So, Jacob, this one is for you...
Hasan lived it up last night at Monday Night Klub. I think everyone got the "Jordanian Jackhammer." He was pretty bombed by the time Dave kicked us out and I had to convince him to let me drive the Beast. That Regal is one fine automobile. It's like driving a boat. Too bad the battery completely died this morning.
Anyway, today is Hasan's birthday. For all of you who did not get the bulletin, we are having dinner at 6pm at some restaurant. I don't know which since it hasn't been decided. Hasan wanted "McDonald, you know." We won't allow that. After dinner, it's Andrea Mather's house for cake and ice cream. That will be followed up with the drive-in. I don't know what movie yet, but I imagine it will be the 40 year old virgin if it is playing there. So, if I get more details I in time I will post them. If not, call my house. If not there, call Hasan's phone. If not there, you are probably not a real friend and shouldn't hang out with the Terrorist and the CIA.