Hey all, long time no see. Had a good time in the Windy City. Stayed at a hotel just off Michigan Ave. and was there hardly at all. The first night, just went to a few bars including the one at the top of the Hancock Building. I hate it up there. It's too high. Even if I'm not scared of terrorism, I was up there, I don't like that the building moves, and something else. Good times with the Grizzly Bear.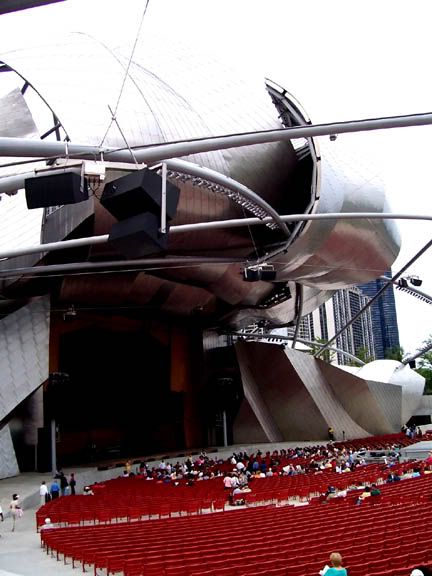 Millenium Park is rad. I saw this right before some crazy guy jumped off the Michigan Ave. bridge into the river. I didn't see him jump. Just watched the rescue. I heart crazies.
Look at this McDonald's. It came from outer space. It's like an original McDonald's on steroids. It's also nutty.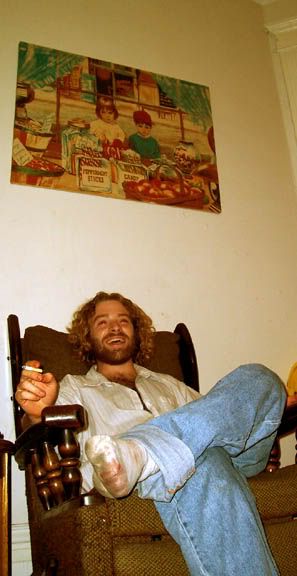 Stopped by Mike Nummerdor's place and saw all my old neighbors. We are getting Crestwood tattoos now. This picture of Matt is how I imagine Jesus would look like if he were to come back today. Matt Christ has a certain blasphemous ring to it.
After the California Cutter Bar, Mike, his girlfriend who is awesome Audrey (sp?), Alice Won, and I went to Burger King. Some cop wouldn't let us in because they were mopping the floor. But, he did take our order and got our food for us. Nice guy, but what the hell is with Chicago cops? Why is he taking my order? Why is he not letting us into the restaurant? Is he just messing with us? Whatever...
I might be spending some time here at the Hillside Bowl. This restaurant is called Lucky's Place. It's diner food at its best. And, some of you might have caught on that I might be working in Chicago. I have a job interview on Monday with the Muskegon Red Cross. I'll do it, but decline the position because it is temporary. Then, I have to go back to Chicago for an orientation and possible hire on Tuesday. I think I will have an apartment there in a week. So... I might be leaving Muskegon... again... But, all of you are more than welcome to visit. Tomorrow is probably going to be the last day I can really hang out in Skee-town. So... call me... I have a wedding reception tonight, but it shouldn't go too long...