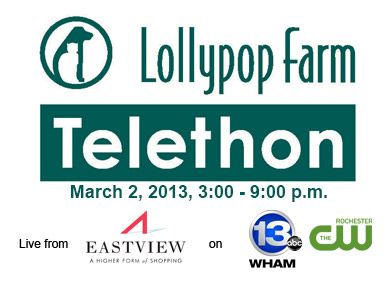 The six-hour broadcast will showcase the diverse and meaningful work Lollypop Farm performs each and every day. Celebrate our far-reaching community programs, successful adoptions and hear stories of some of the special animals that have touched our lives.
Your support is critical!
All funds raised help Lollypop Farm care for homeless and abused pets and continue to bring valuable services—including humane education, cruelty investigations, and much more—to the Rochester community.
Make a difference in the lives of homeless animals with your Telethon donation. Remember—every dollar raised stays in the Rochester community and helps change a pet's life for the better. See how your donation is put to work:
$25 = Spay/Neuter one animal
$50 = Purchases surgical instrument trays
$100 = Purchases animal capture gloves
$200 = Purchases a veterinary heating pad
$500 = Allows for surgical and rehabilitation of one animal cruelty victim
- See more at:
http://www.lollypop.org/site/c.clKUI9OQIoJcH/b.8484615/k.352D/Telethon_2013.htm#sthash.RlryD2Lq.dpuf