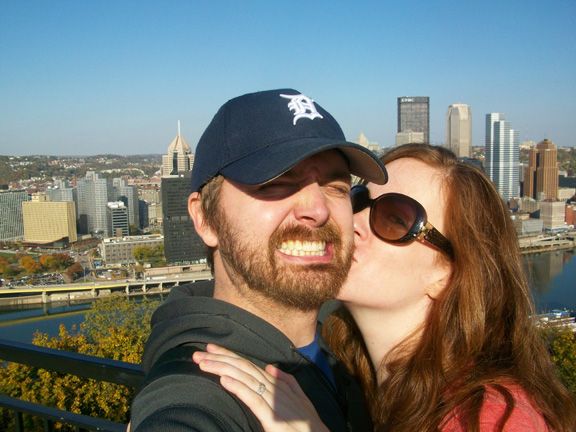 Megan and I on a half-work trip to Pittsburgh!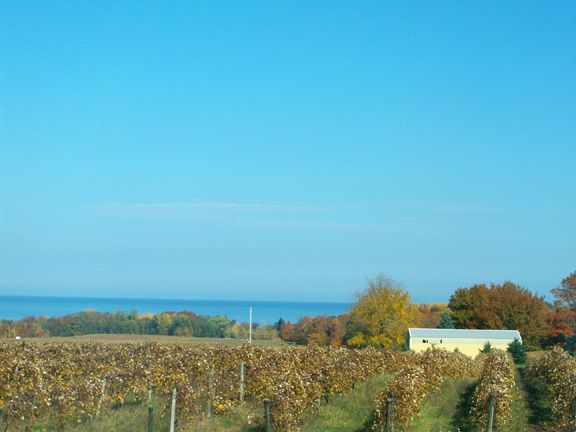 The most scenic rest stop in Erie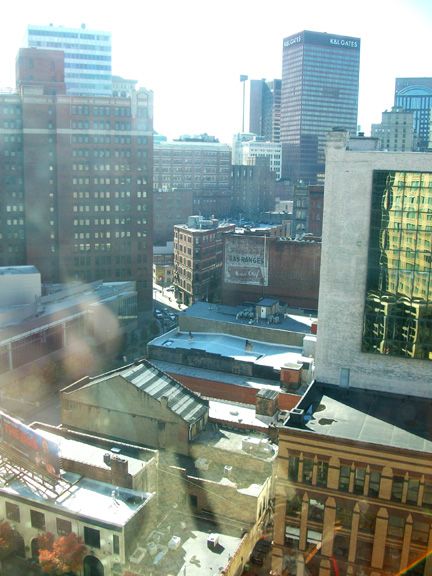 View from our hotel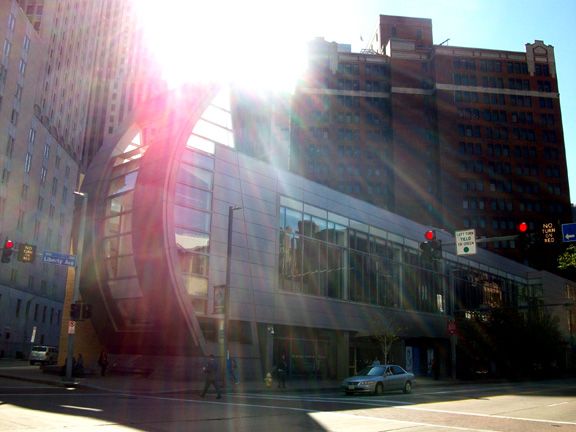 The August Wilson Center http://www.augustwilsoncenter.org/ in the rays of Jesus' light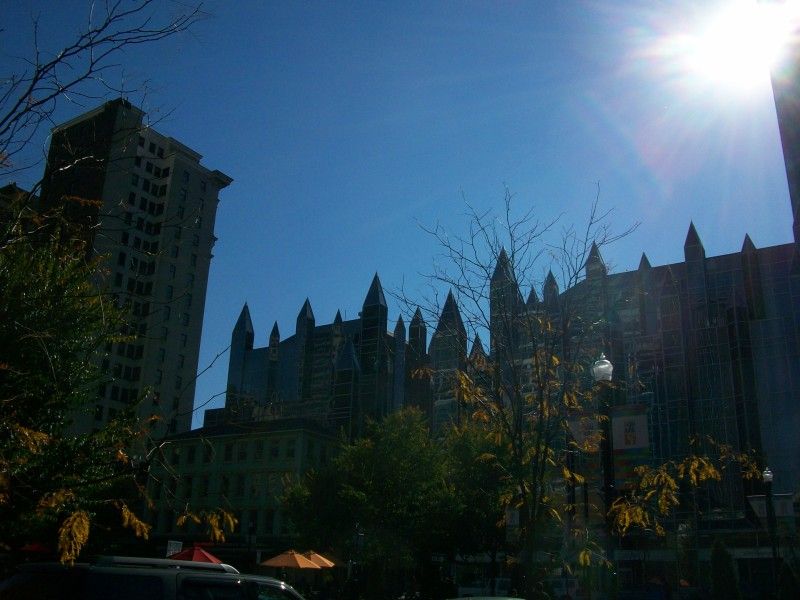 Superman's Fortress of Solitude (aka PPG Place) at Market Square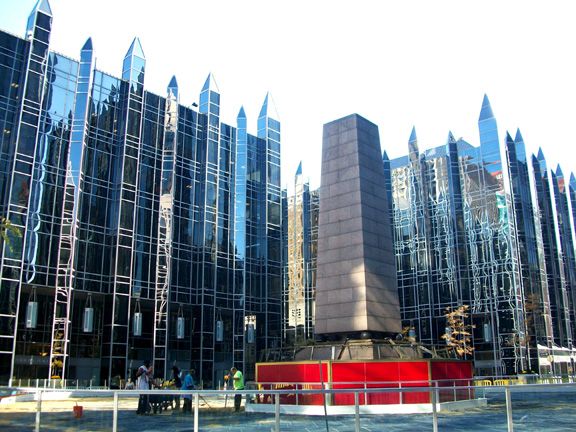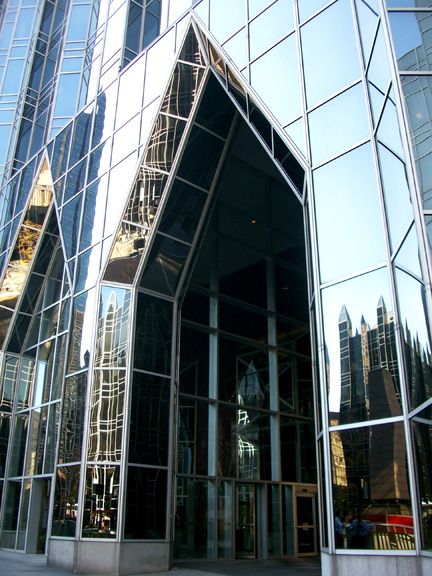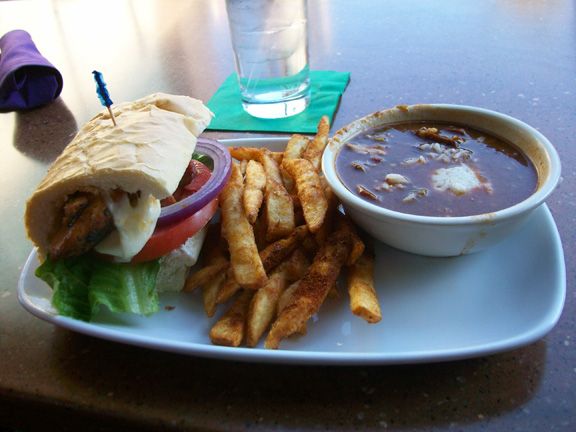 Had a great lunch at Nola's http://www.nolaonthesquare.com/
. A little bit of gumbo and a chicken po boy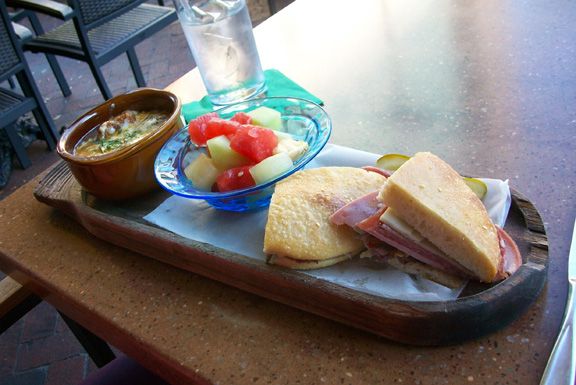 Megan had the Muffaletta and French Onion Soup. Great people watching too!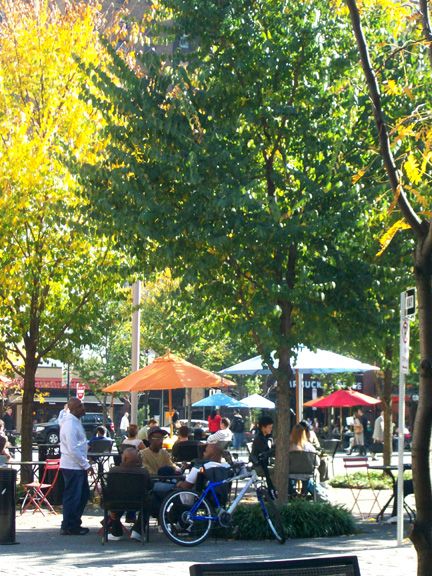 Hanging out in Market Square. A gathering place desperately missing from downtown Rochester. Take notes... There will be more later as well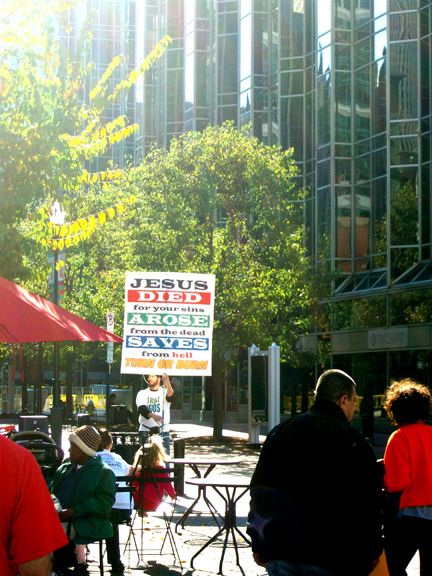 Jesus guy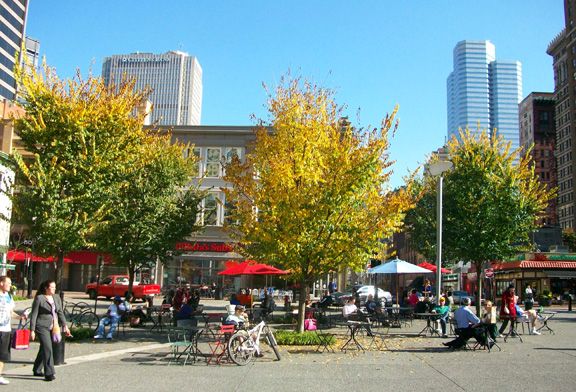 So wonderful it doesn't look real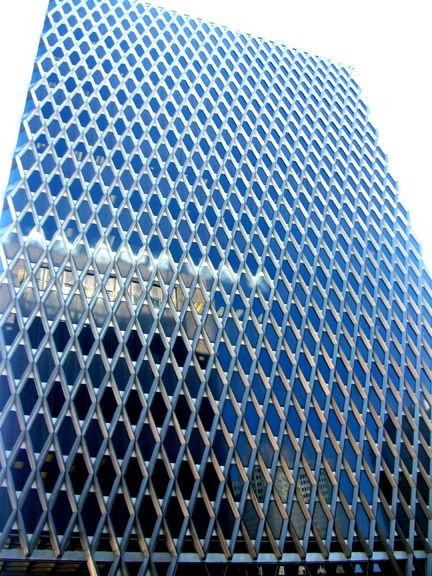 United Steelworkers building.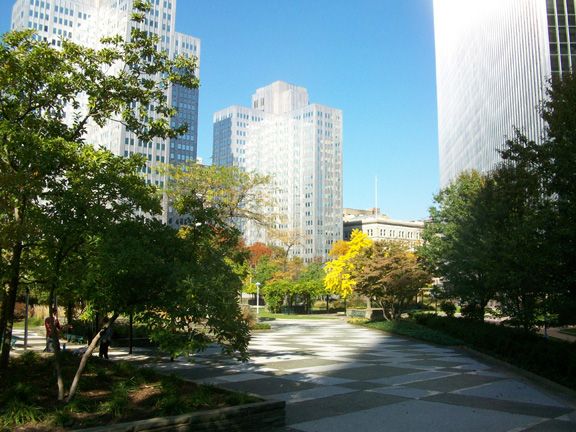 A nice plaza that tricked us into thinking it lead to Point State Park

Here we are. Point State Park http://en.wikipedia.org/wiki/Point_State_Park, which is at the intersection of the Allegheny, Monongahela, and Ohio Rivers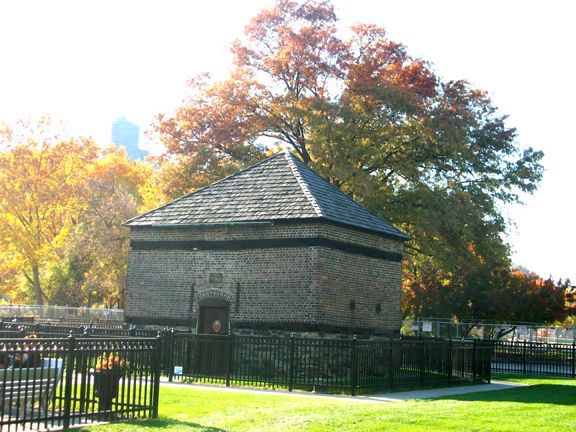 The Fort Pitt Blockhouse. This was also the site of Fort Duquesne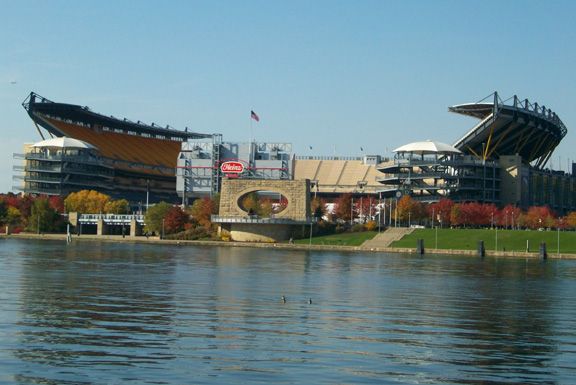 "The House That Ketchup Built: Heinz Field" http://www.steelers.com/
The Carnegie Science Center http://www.carnegiesciencecenter.org/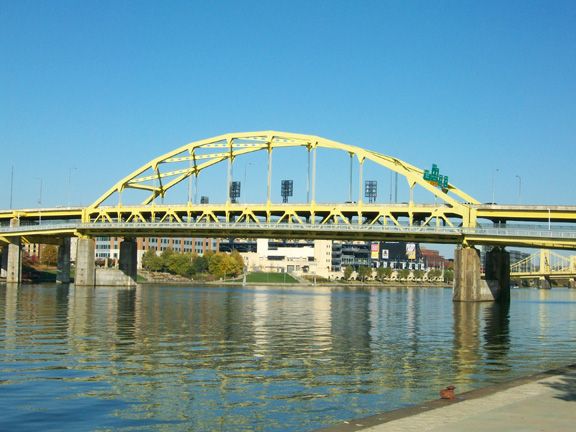 Fort Duquesne Bridge. I have to say that in a world gone beige, I really appreciate the use of yellow on the bridges.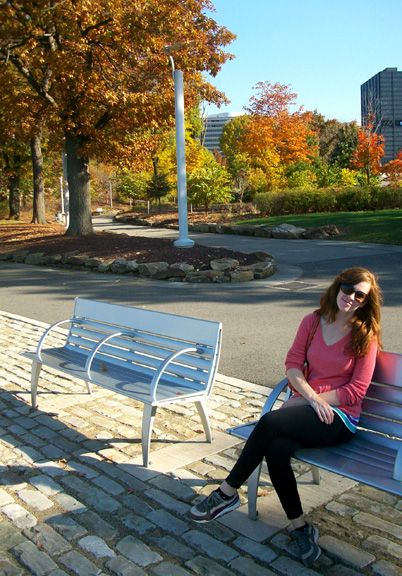 Autumn is her season...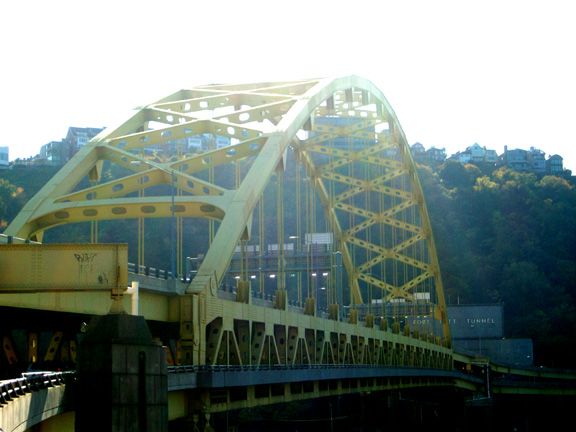 Crossing the Fort Pitt Bridge

Point Park from the bridge.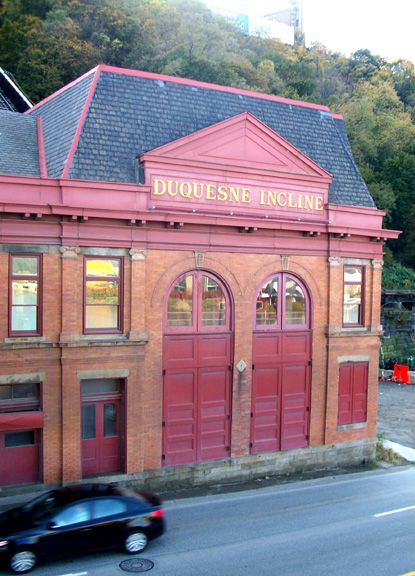 The Duquesne Incline funicular http://www.duquesneincline.org/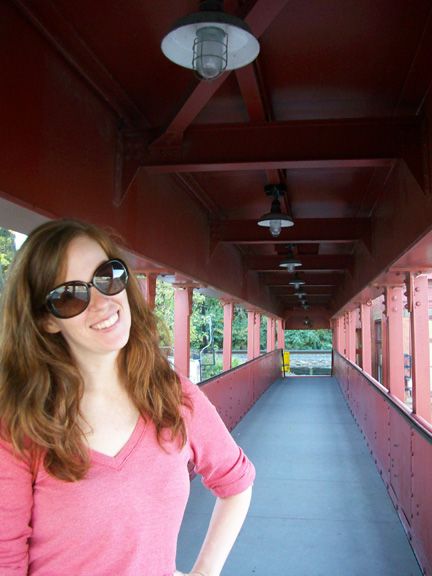 Can you tell she's getting tire of me taking pictures of her?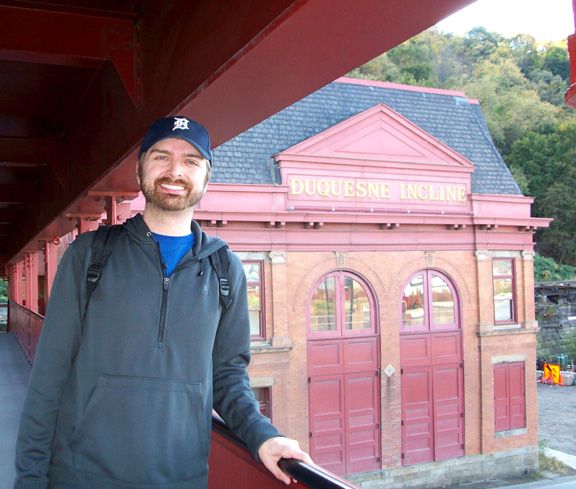 Reminds me of the trams in Portugal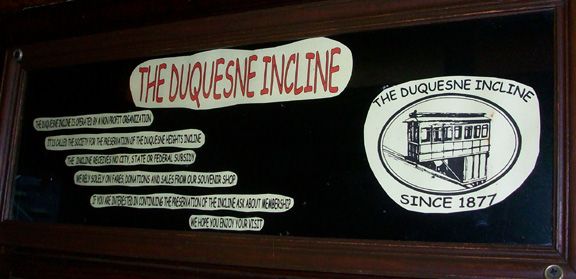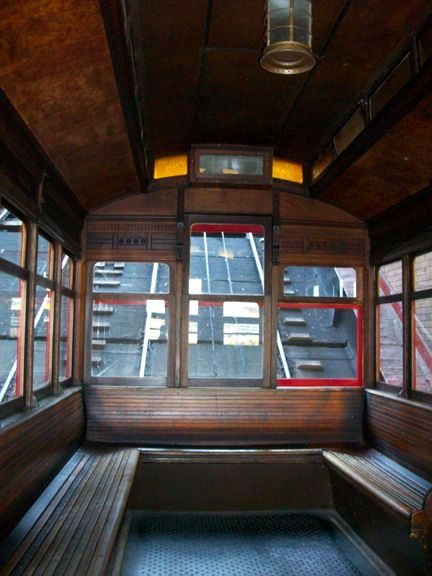 They don't build them like this anymore!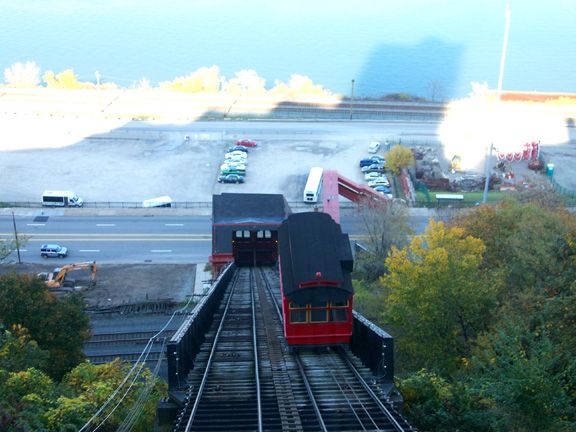 Yikes! I'm not a big fan of heights and all I thought the whole way up was "I hope the cable doesn't snap."
Inside the station at the top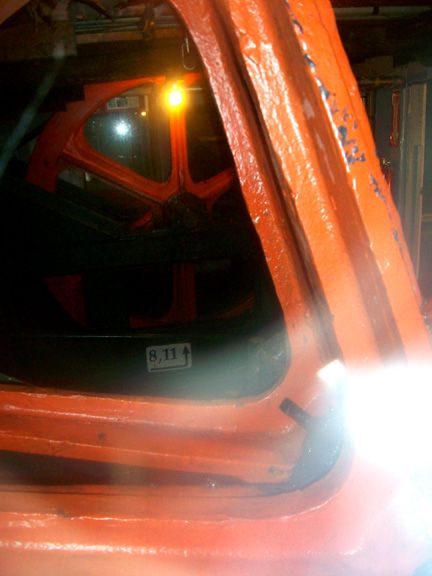 The workings of the cable car or a good album cover (do they still have those?)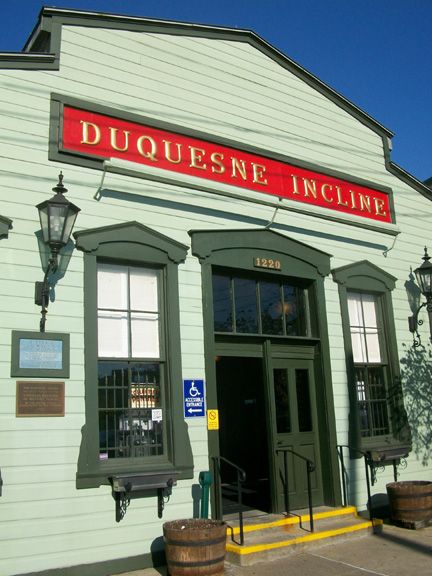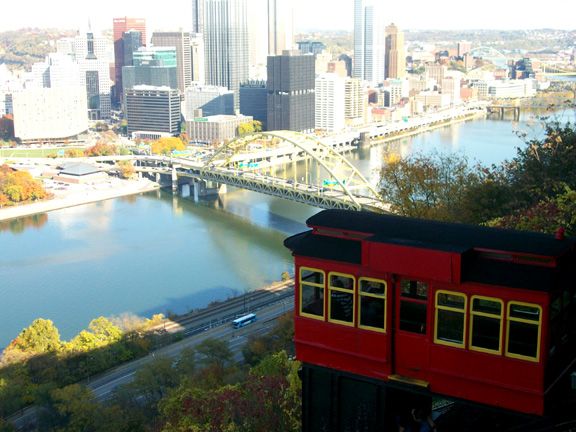 If you look real closely under the cable car, you will see a guy with a Tide bottle full of grease lubricating the cable/rail.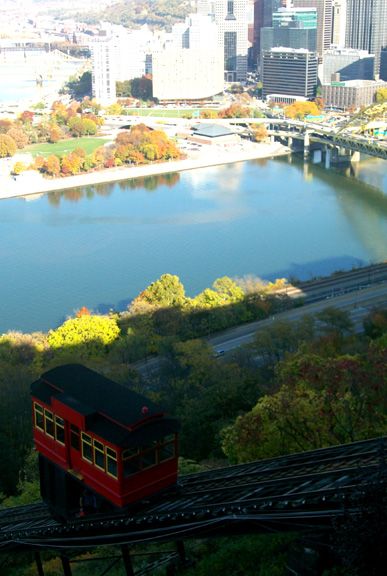 SEE HIM!!!
On top of Mount Washington
Not a bad view...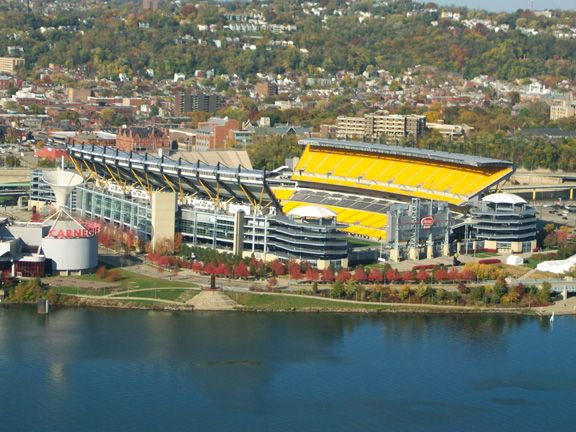 Heinz Field again...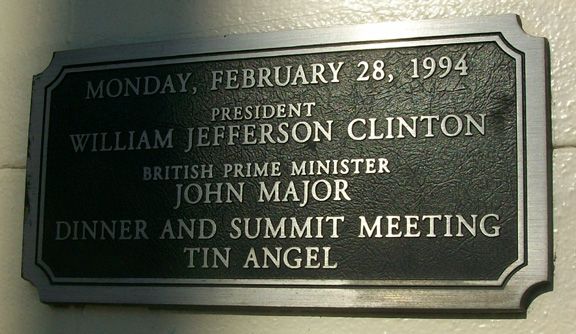 Everywhere we go on trips, Bill Clinton has been there before us...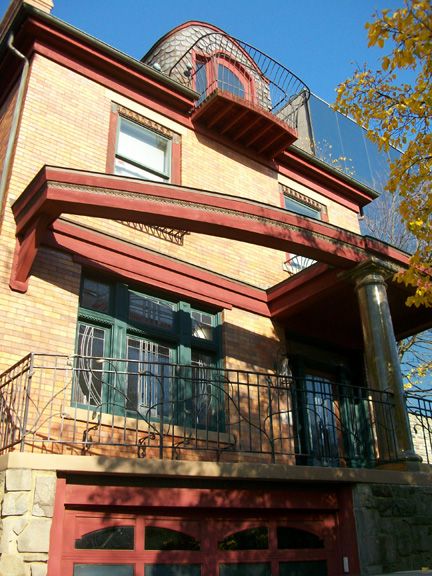 If we had a buzillion dollars and a second home in Pittsburgh, we'd settle for this place.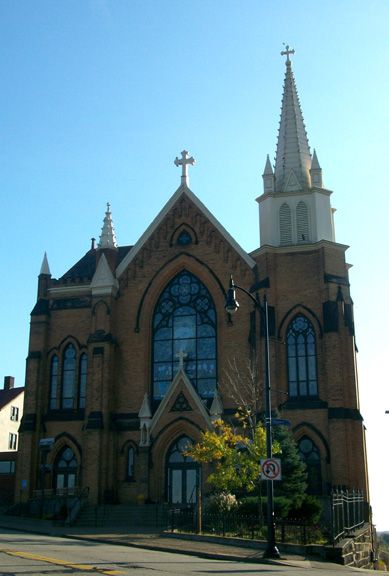 St. Mary of the Mount Church.

Panorama of downtown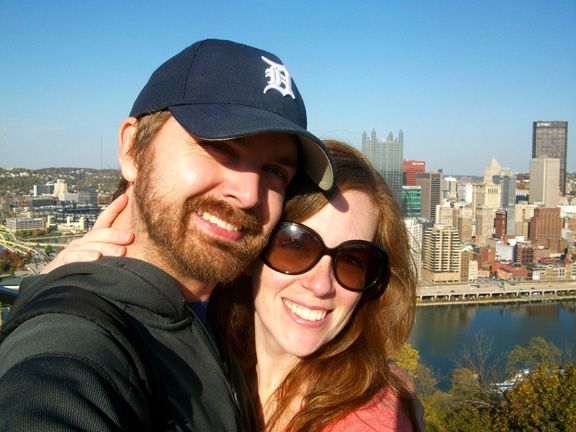 First Mining of Pittsburgh Coal and many other facts from these signs ahead!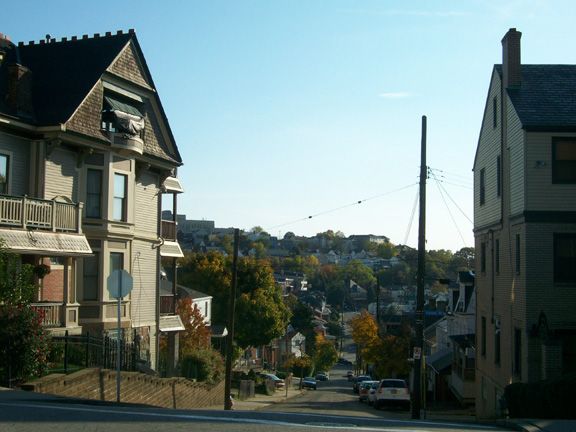 From an era when American's knew how to design cities...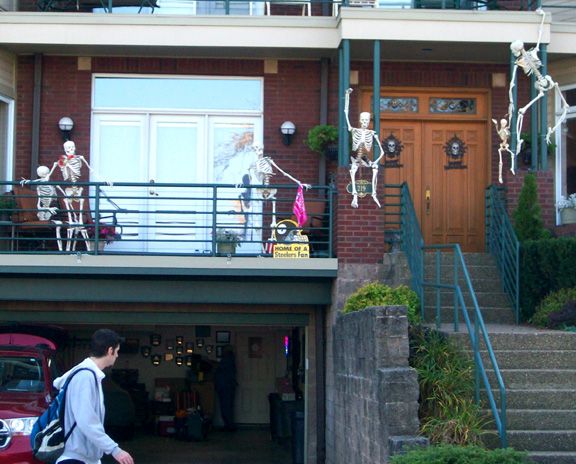 Nice skeleton family hanging out on the porch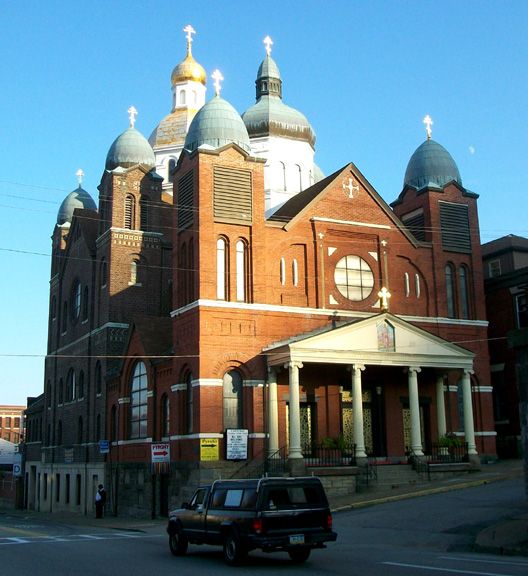 St. John the Baptist Ukrainian Catholic Southside Church.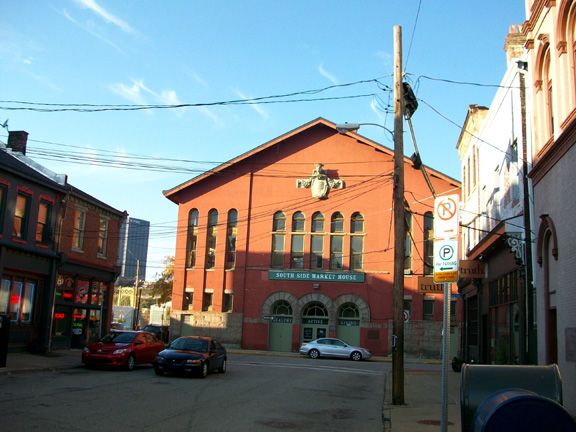 The Southside Market House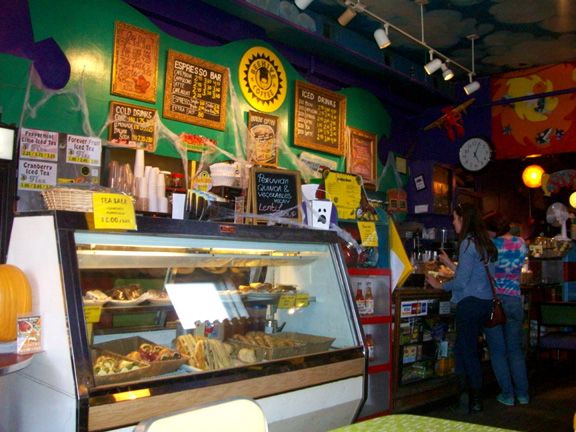 Getting a drink at the Beehive Coffee House http://www.beehivebuzz.com/index1.html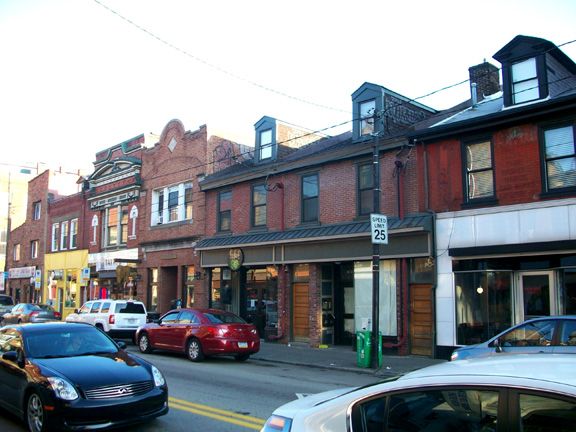 The Southside Neighborhood reminded us a lot of Wicker Park in Chicago before it was taken over by The Real World/Starbucks/American Apparel etc.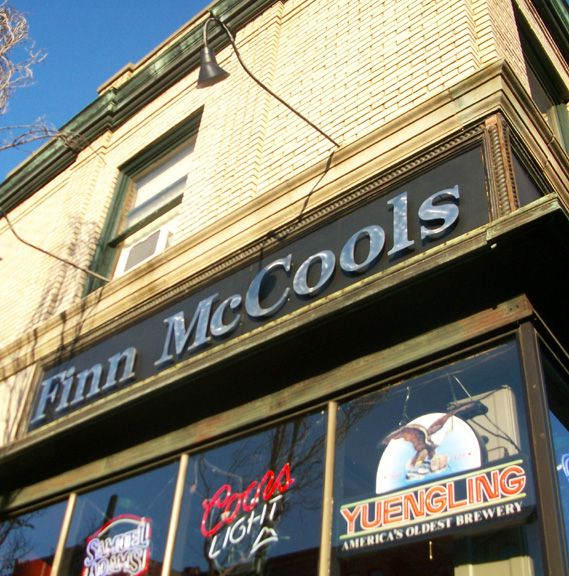 Destined to be Ronan's new favorite bar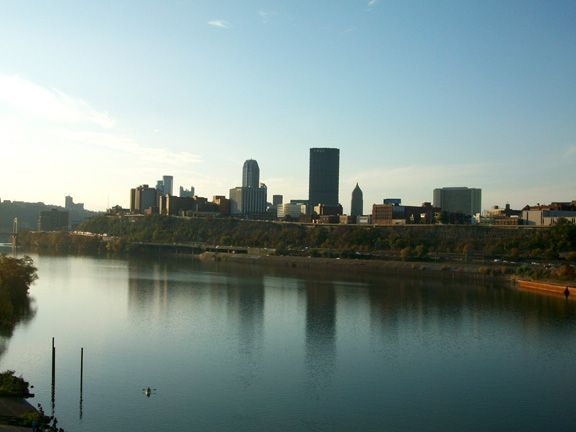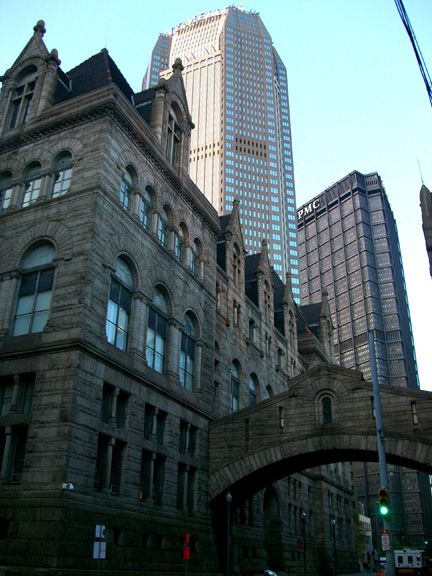 The "Bridge of Sighs" at the Allegheny County Courthouse http://en.wikipedia.org/wiki/Allegheny_County_Courthouse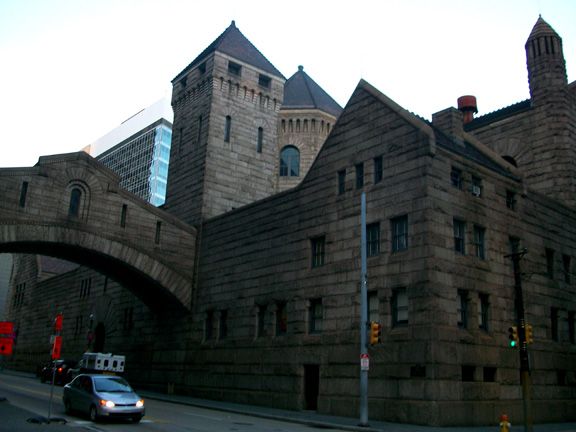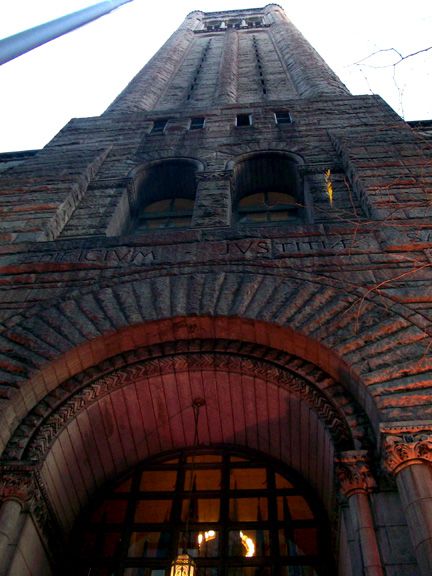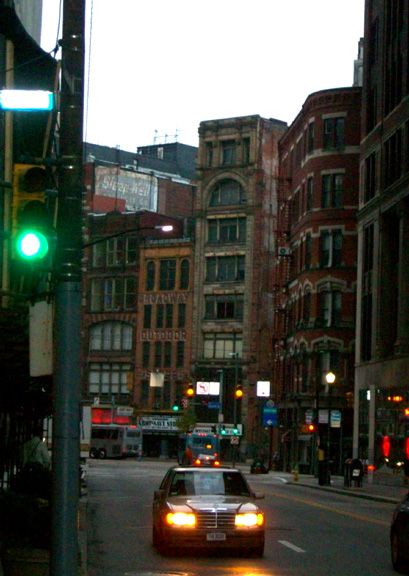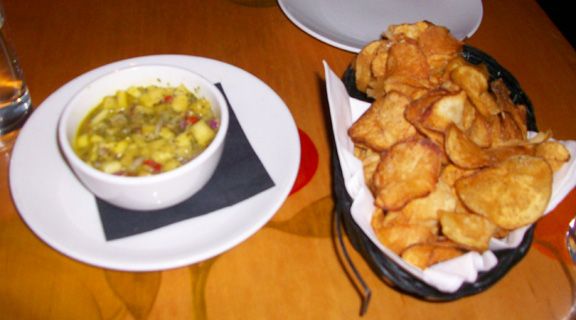 Homemade Kaya Chips and Mango-Tomatillo Salsa at Kaya Restaurant
http://www.bigburrito.com/kaya/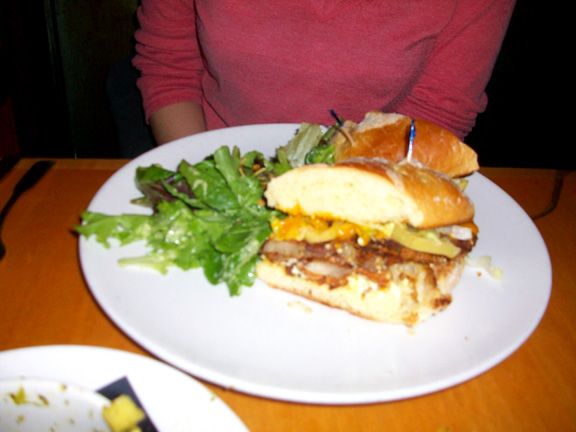 Megan's Torta was really good!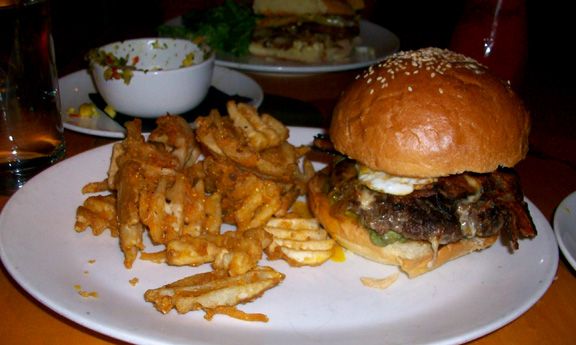 But, I went with the Kaya Burger. I learned a long time ago to go with whatever has the restaurants name in the title of the food. It was right and beautiful!
Megan and I watching Monday Night Football (Bears vs. Lions) at Lefty's after a couple "Strong Island Ice Teas."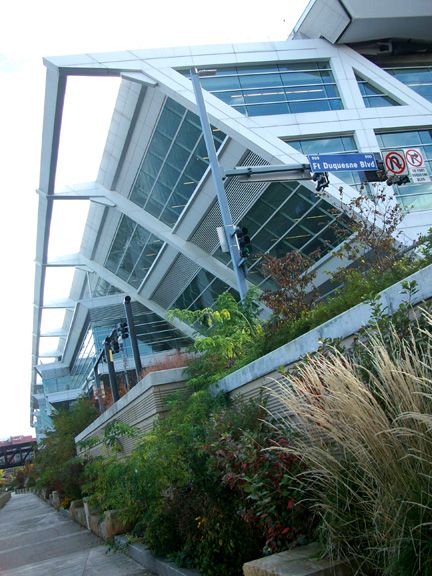 River walk at the David Lawrence Convention Center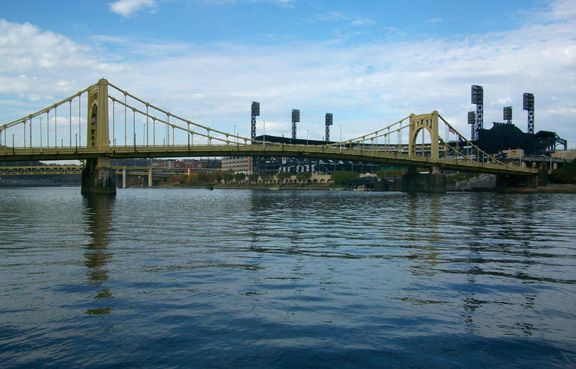 Roberto Clemente/Sixth Street Bridge http://en.wikipedia.org/wiki/Roberto_Clemente_Bridge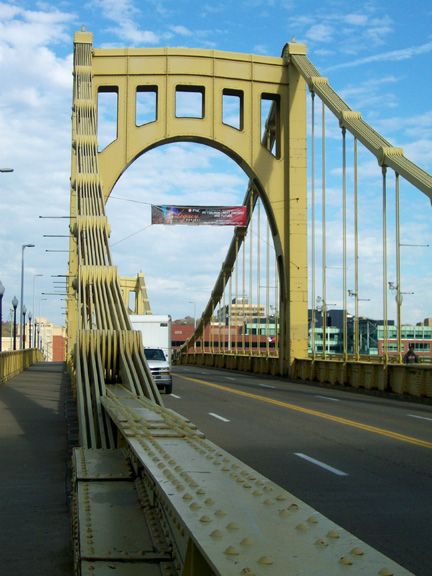 Most masculine bridge ever
Beyond teh Cheat? Should I be upset about this?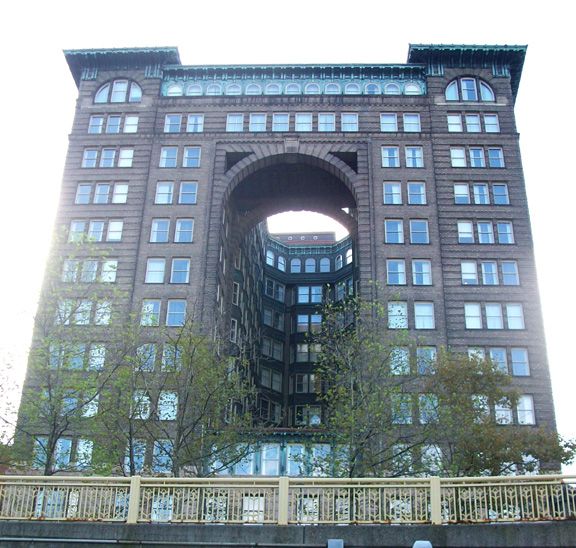 Byham Theater Building
This is the dome inside the Hotel at the Byham Theater Building (or whatever it is called. Sorry)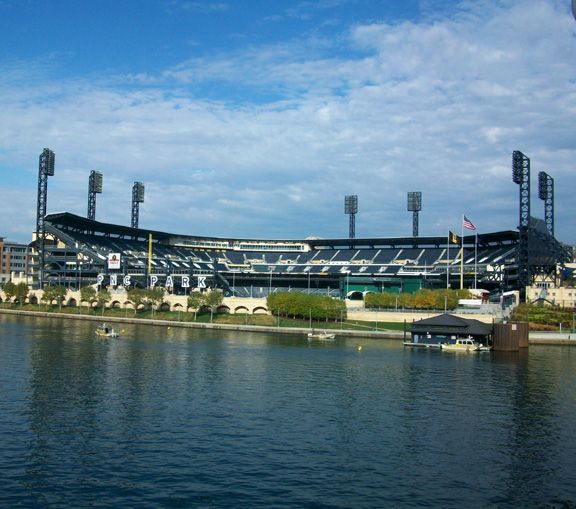 PNC Park: Home of the Pittsburgh Pirates
http://pittsburgh.pirates.mlb.com/index.jsp?c_id=pit&sv=1
Seems like a pretty nice stadium. A bit too much surface parking lots around for my taste, but otherwise, nice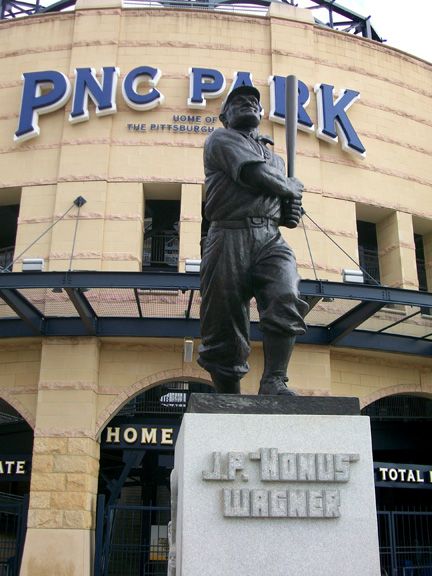 Honus Wagner http://en.wikipedia.org/wiki/Honus_Wagner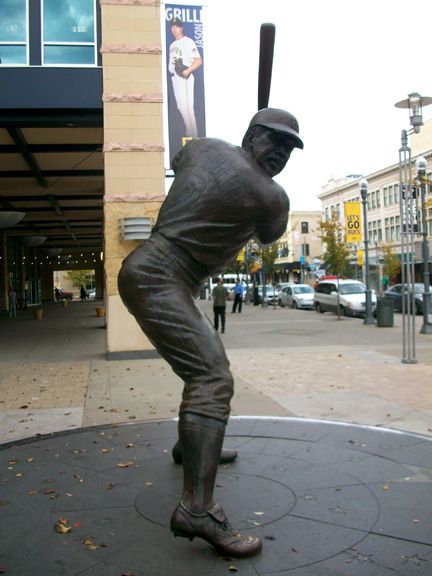 Willie Stargell http://en.wikipedia.org/wiki/Willie_Stargell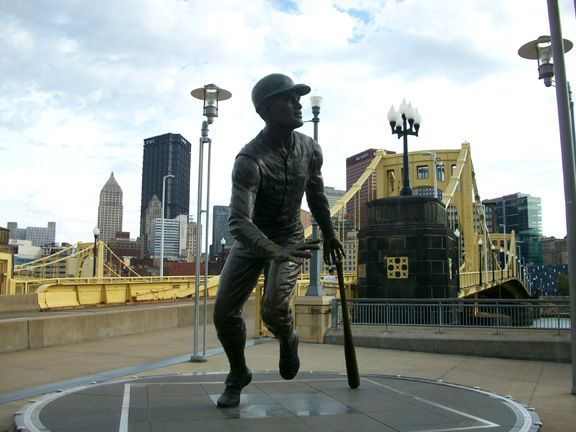 Roberto Clemente http://en.wikipedia.org/wiki/Roberto_Clemente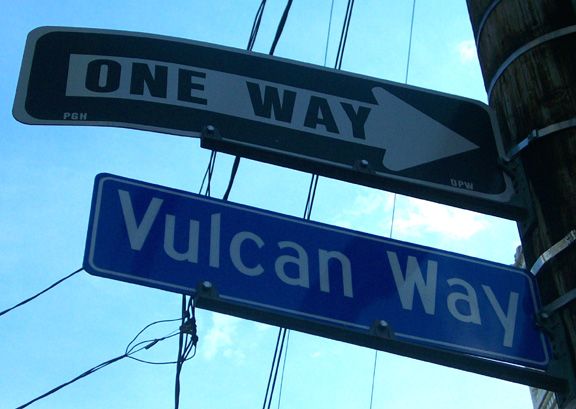 Live long and prosper. It's the Vulcan Way...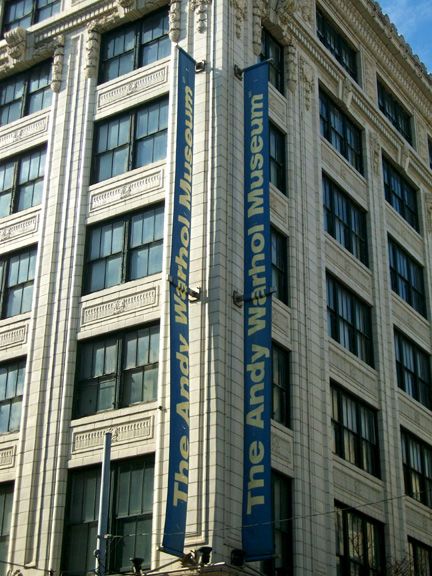 If it wasn't a beautiful 75-80 degree day in October, I'd probably thought of going inside the Andy Warhol Museum. Next time... Same with the National Aviary...
You wouldn't think this river walk path was in the heart of an urban metropolis, would you?
16th Street Bridge. I learned a hard lesson about Pittsburgh on this day. If you plan to cross the river, please check to make sure a bridge exists beyond the one you are currently walking by.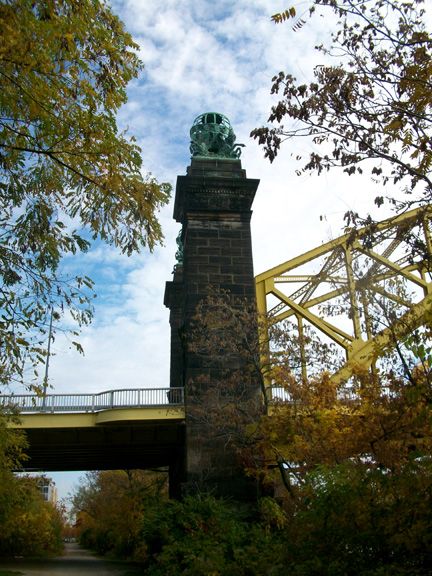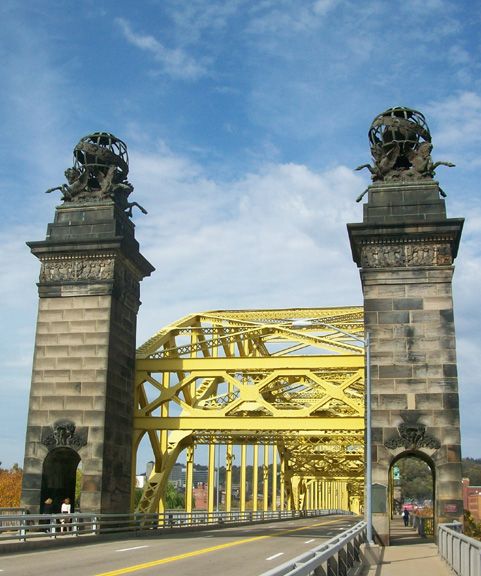 http://en.wikipedia.org/wiki/16th_Street_Bridge_(Pittsburgh)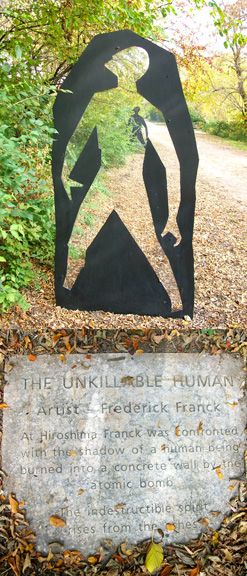 The Unkillable Human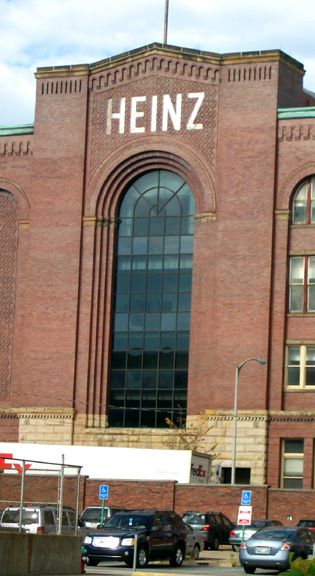 Old Heinz Factory turned office/loft complex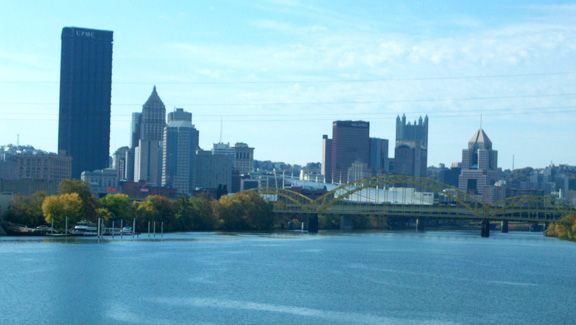 The view from Herr's Island. Notice the 16th Street Bridge. The next bridge I saw was the 31st Street Bridge and it was missing part of its span. I saw no bridge after that... A long walk back...
The almost famous Primanti Bros.
http://primantibros.com/home.html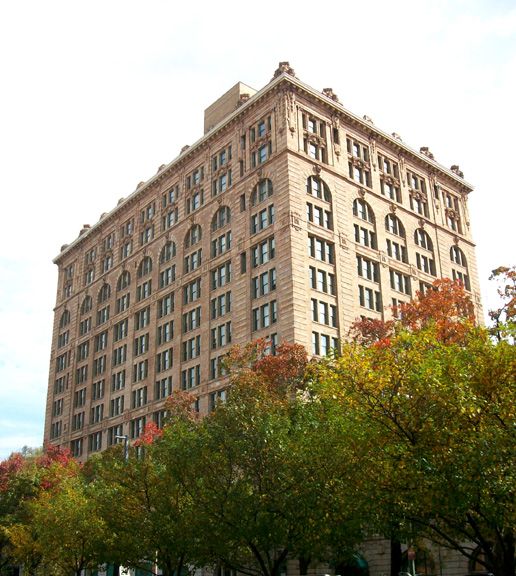 Union Station. If you don't think this is impressive, you should see what Detroit let happen to theirs.
http://en.wikipedia.org/wiki/Union_Station_(Pittsburgh)
compare:
http://en.wikipedia.org/wiki/Michigan_Central_Station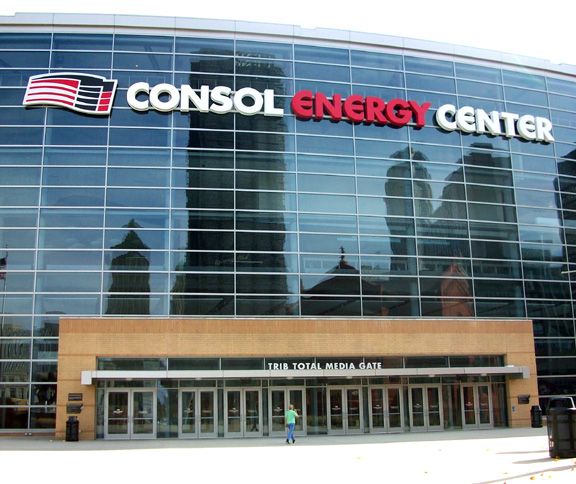 Consol Energy Center: Home of the Pittsburgh Penguins. http://penguins.nhl.com/
Too bad the NHL is in a lockout. Also, because of Google Maps I thought the Igloo (Civic Arena) still existed and was really excited to see it. I knew it was next door, but after a couple of laps realized it was turned into a parking lot...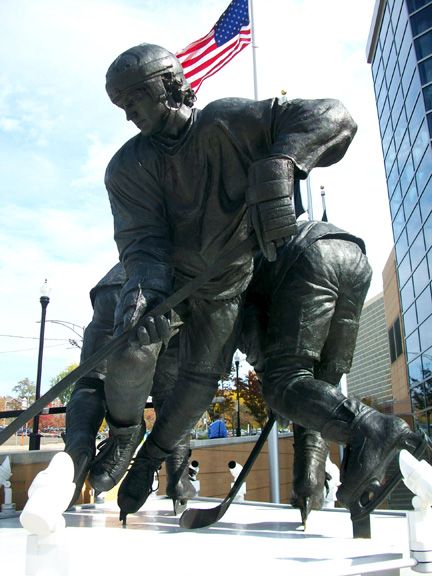 Mario Lemieux statue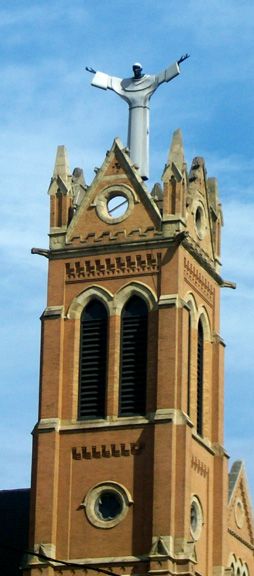 DON'T JUMP!!! St. Benedict the Moor Church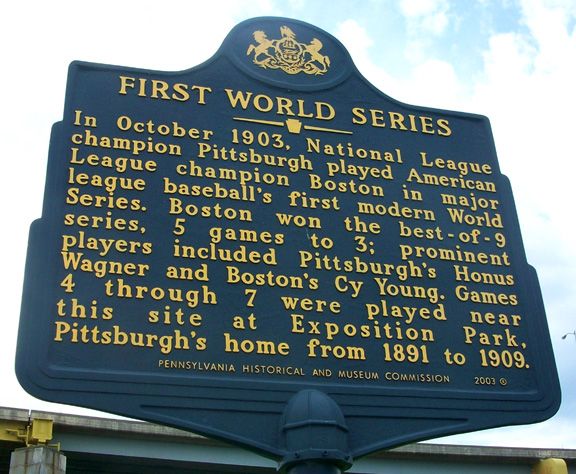 Back on the Northside with some timely World Series Baseball history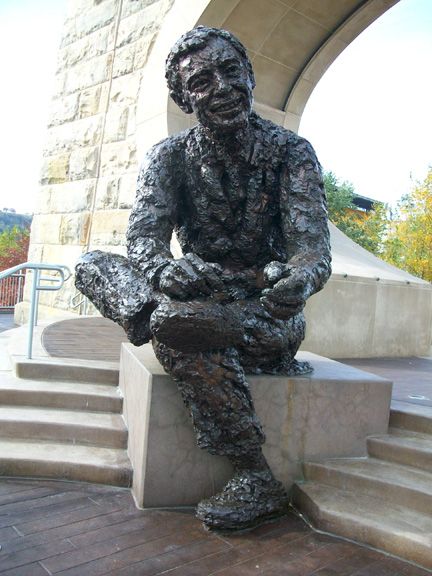 Can you guess who this is?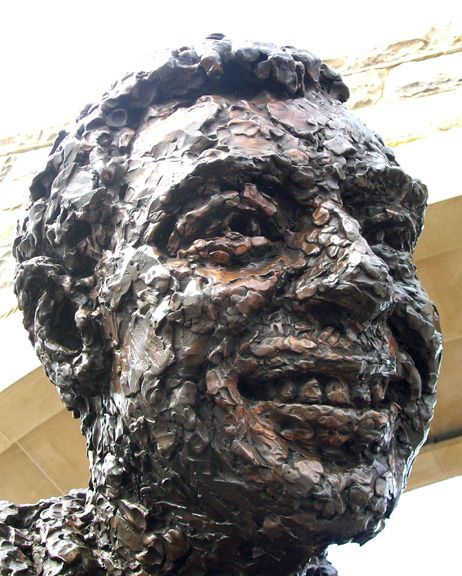 It's Mr. Rogers. A very lumpy day in the neighborhood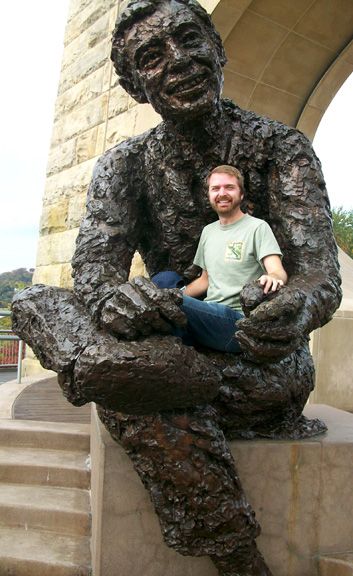 Just to give you perspective on how large this statue really is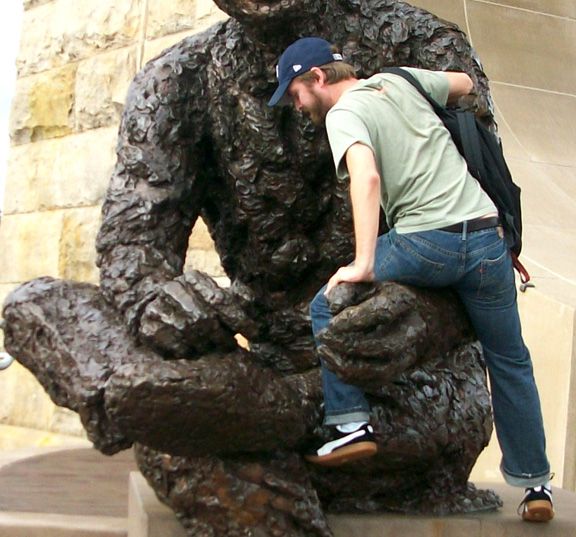 And how close it came to killing me...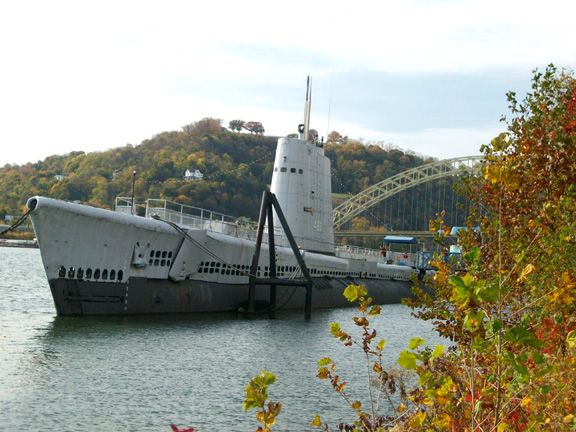 The USS Requin
http://en.wikipedia.org/wiki/USS_Requin_(SS-481)
Gateway Clipper passing the Clemente Bridge http://www.gatewayclipper.com/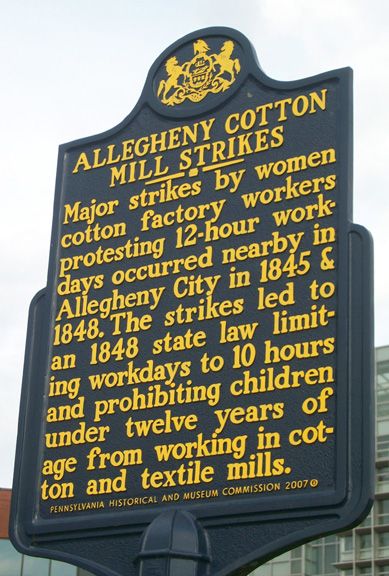 Allegheny Cotton Mill Strikes sounds like they happened just yesterday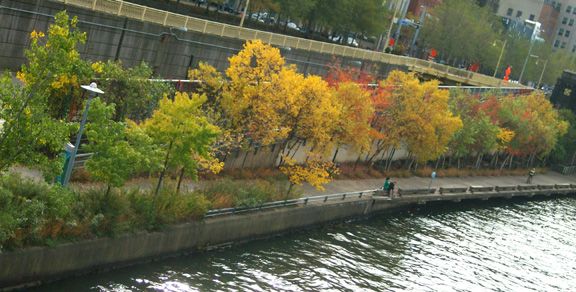 Rochester could have a river walk like this that would be twice as nice with little effort.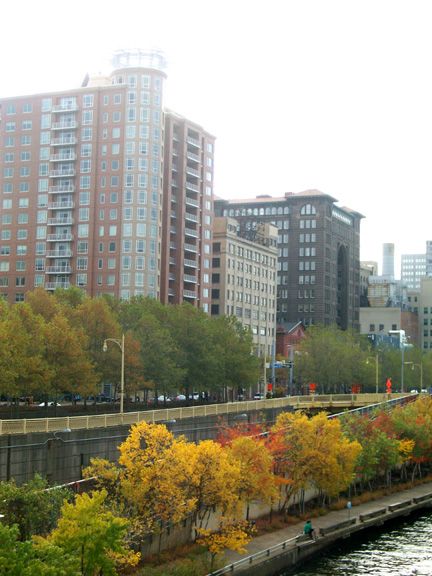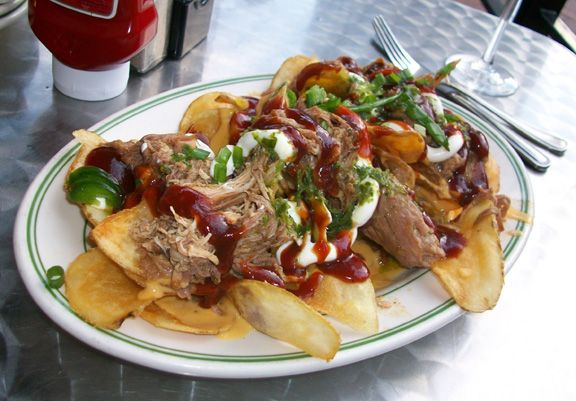 Ultimate BBQ Potato Chips at Diamond Market Bar. http://diamondmarketgrill.com/
Walkway under the Lawrence Convention Center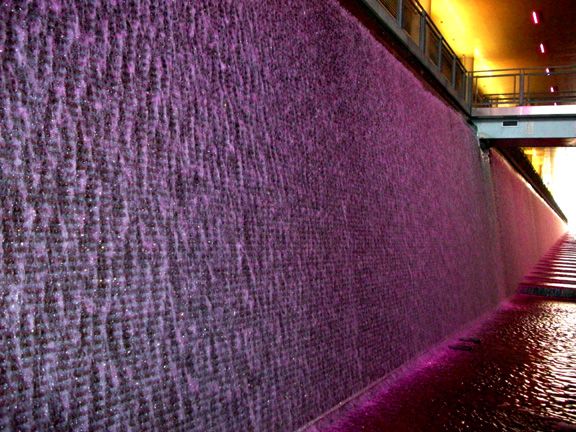 Crazy waterfall during the day at the Lawrence Convention Center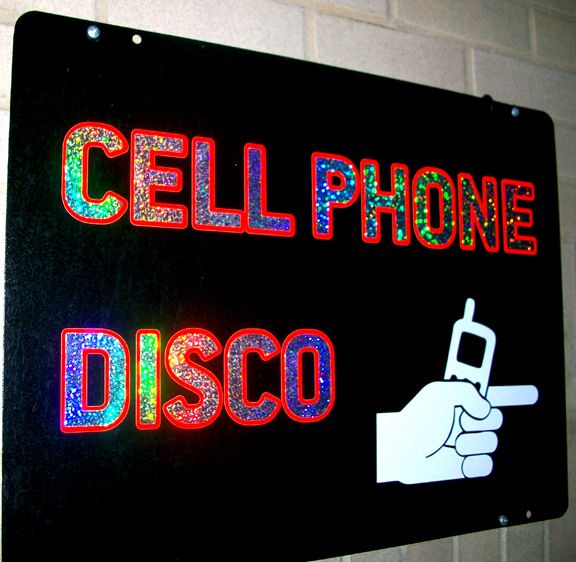 A sign to the Cell Phone Disco: My Own Personal Hell
http://www.cmu.edu/homepage/computing/2010/fall/cell-phone-disco.shtml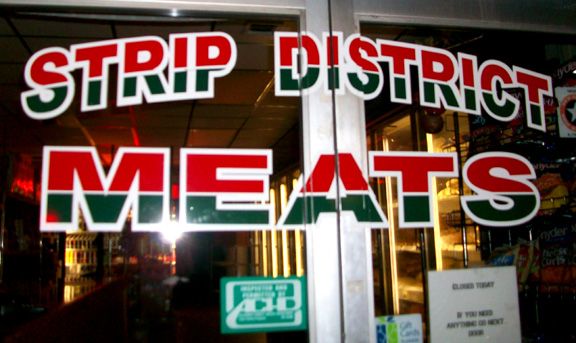 Strip District Meats would be a very different place in Chicago (or most other places really)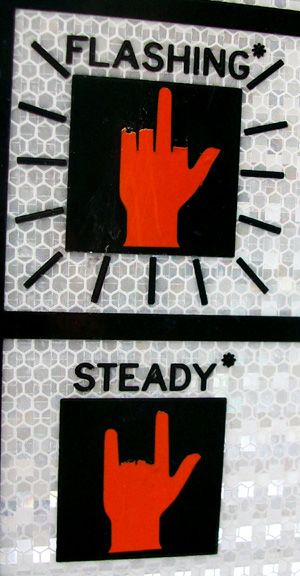 Flashing Steady: My new band and album cover (seriously, do they have covers on MP3s?)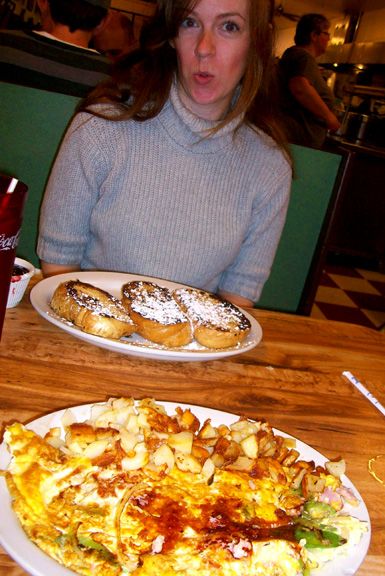 French Toast and a Western Omelet at Deluca's Diner.
Is the ketchup bottle half full or half empty at the Heinz History Center?
http://www.heinzhistorycenter.org/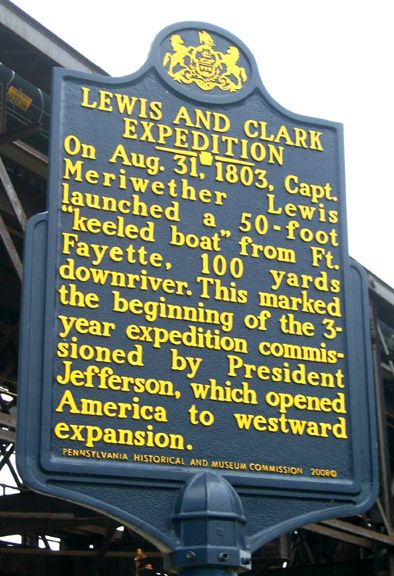 Lewis and Clark in Pittsburgh? I didn't know that.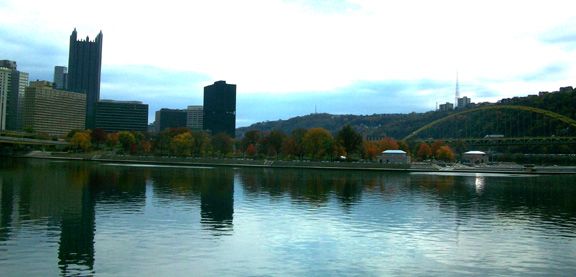 Goodbye Pittsburgh! I was completely surprised by how great of a city it is. Will have to go back and check out all the things I missed!