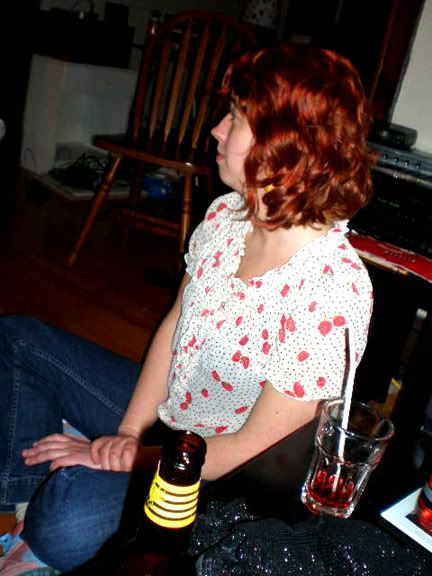 Frances hanging out at Damanda & Kevin's apartment before we all head out for Alice Won's b-day party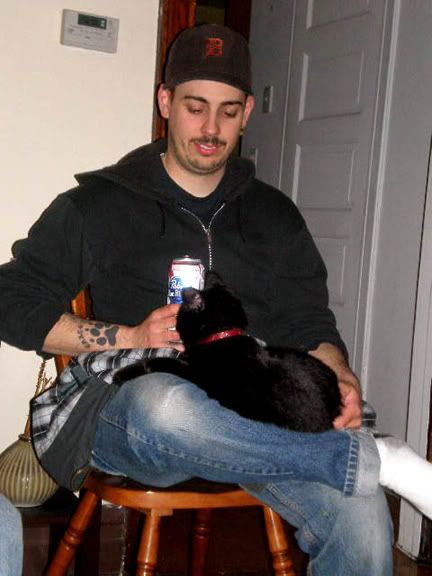 Brent hanging out with Bruno
Angela, Brent, Nick, & Noah in Kevin and Damanda's huge kitchen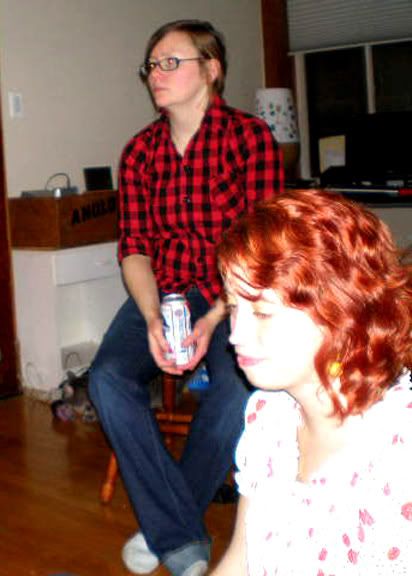 Angela and Frances
This evening's host; Damanda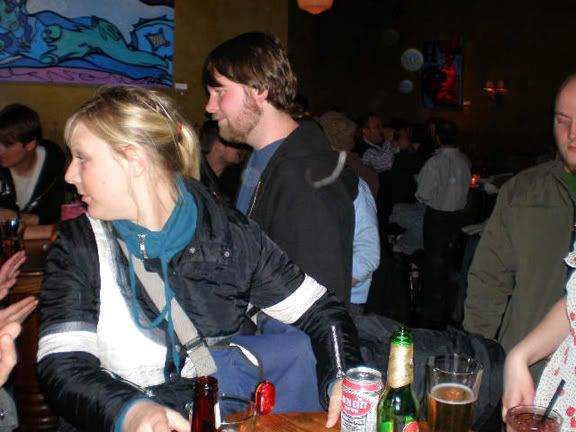 The party was moved over to Lemmings on Damen just south of Armitage where Alice Won was partying with some other folks and more Muskegon Exiles.
Frances cutting Noah out of their picture together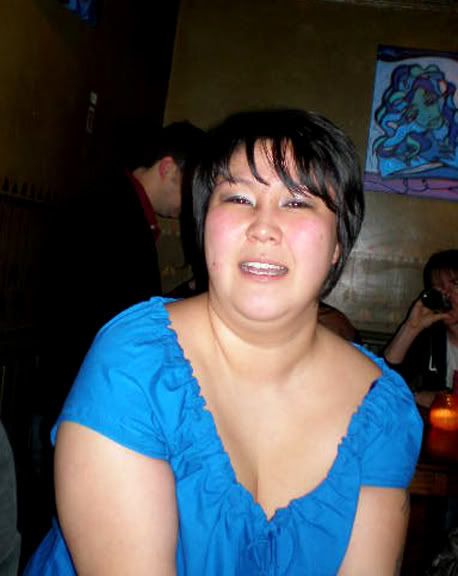 Doesn't she look like the B-day girl? I'll admit, this isn't a good one of you... sorry...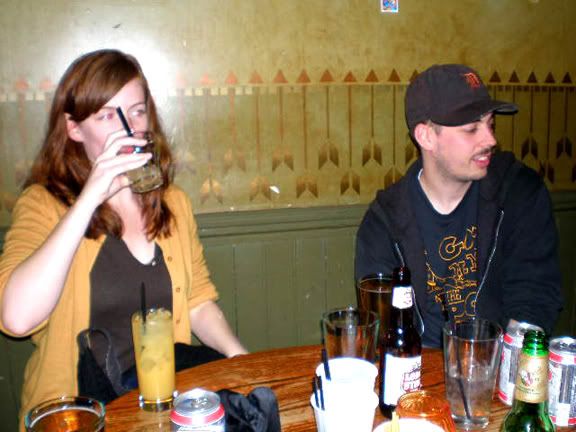 Megan and Brent. They were having some kind of philosophical conversation about something. Probably about Death Race 2000, which was on TV (a highly suggested movie from me).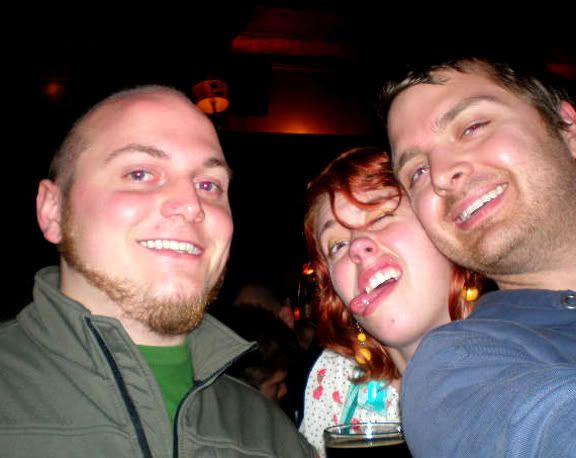 Noah, Frances, and myself. Sorry Frances, we didn't realized it was suppose to be one of "those" photos...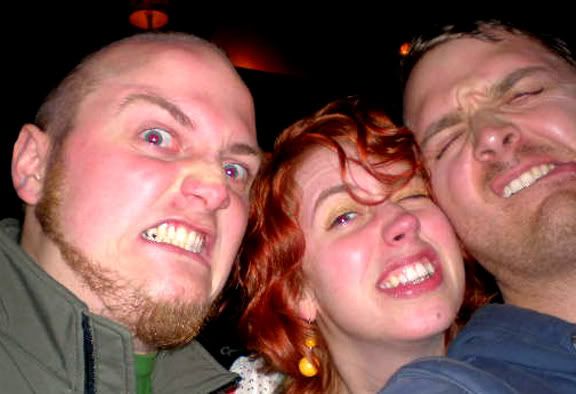 Here we go!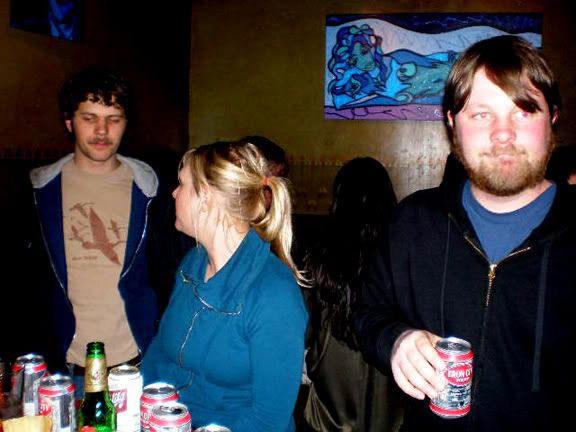 Nick, Karli, and Mike, who is drinking Iron City Beer: Lemming's featured "shit can of the month for $2.25"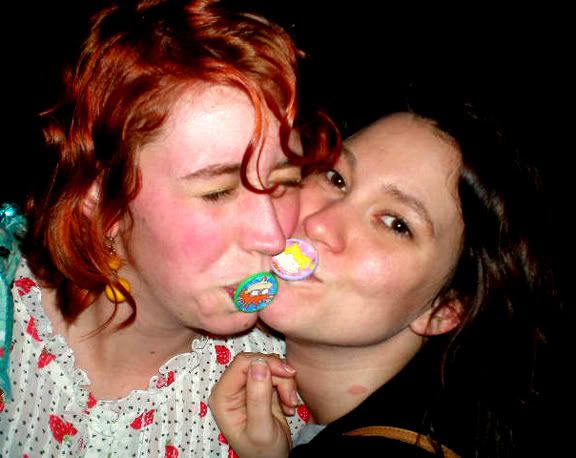 Frances and Damanda with some button things from the birthday cupcakes or something.
Damanda's new MySpace photo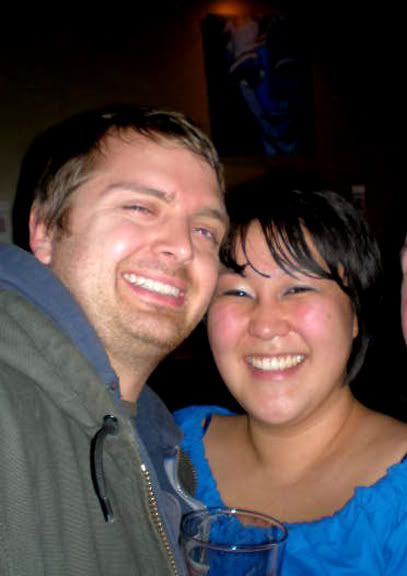 Me and the B-day girl; Alice Won. This is a much nicer picture of you!!!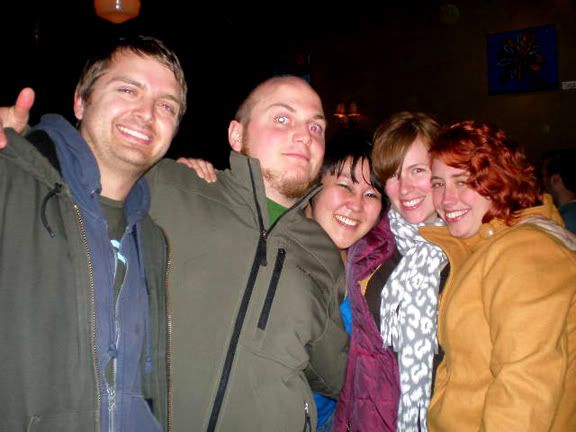 Me, Noah, Alice, Megan, & Frances. Megan, we should have this one printed and placed on the wall.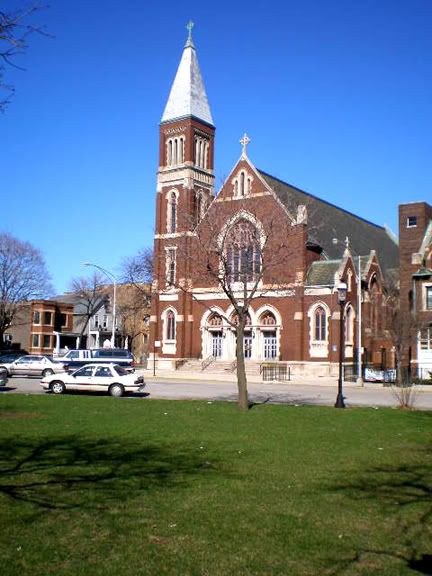 Ahhh, the heaven's have opened up. God looked down on his lonely planet and saw people suffering from a difficult winter. Those poor Chicagoans cowering under blankets on their couches. And, with an effortless drag of his finger he cleared away the clouds and drew up warm winds from the south. He was indeed great. Or, something like that....
Church on Humboldt/Sacramento Blvd.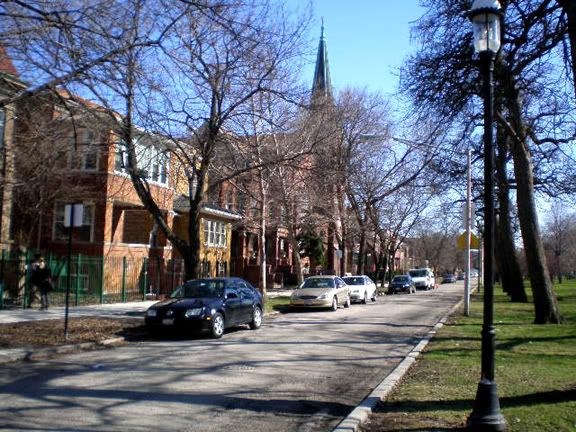 Just off the Blvd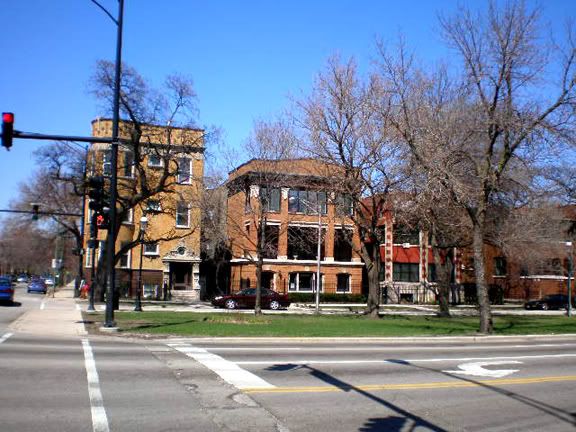 Logan and Sacramento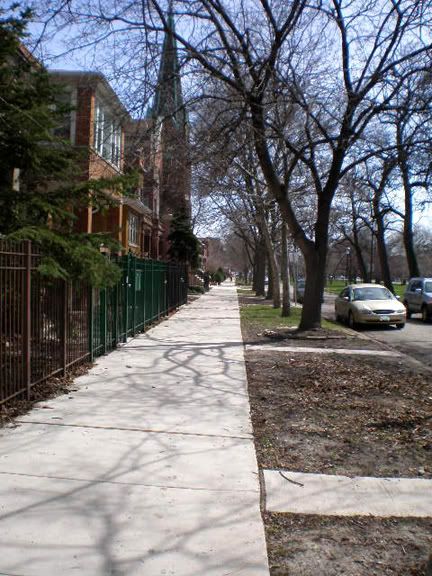 Taken a few days later. I didn't realize this until now. But, I think it's the same photo from 2 above, but a slightly different angle...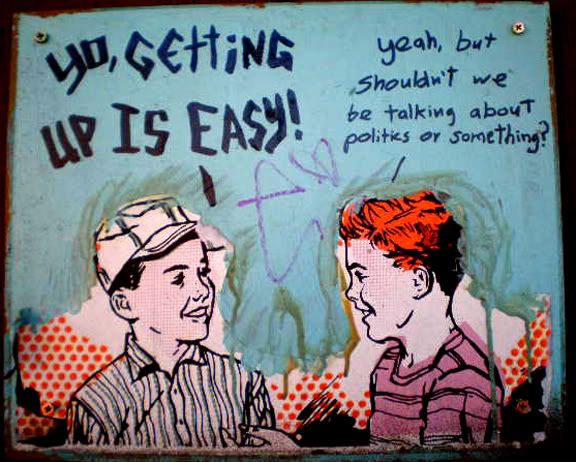 High art graffiti at a construction site on Kedzie south of Montrose
Chicago Bears van I found on the northside. Chicagoans love their bears. You'd know that if you saw Top Chef: Chicago last night. Did you see "the Refrigerator?" He's so awesome. I want to be his friend. Megan and I laugh about an interview he was ... "I go feesshin'... with my buuuudddies..." Now, I can add him yelling at the little Asian guy "Com'on man and just gimme the ribs."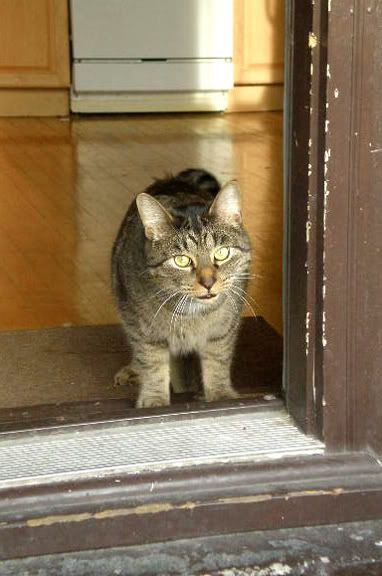 Perfect BBQ weather last night (except for the hurricane force wind early on). Blue's not sure about this "outdoors" room of the apartment. Just look at the fear in his eyes.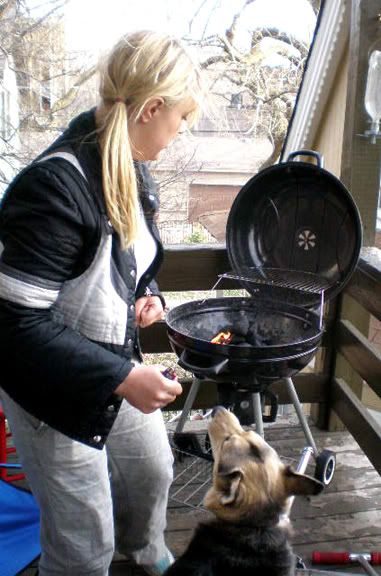 Karli breaking in the new grill with Tennessee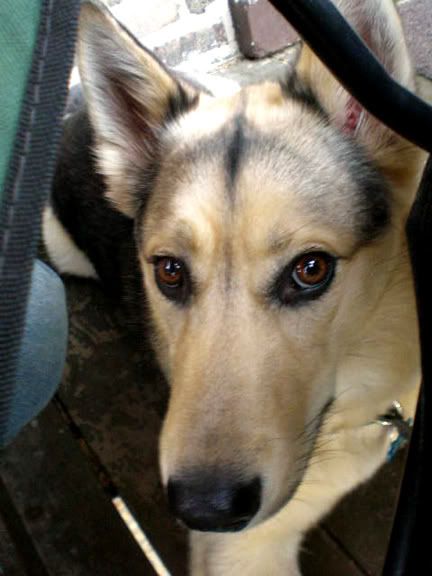 Tennessee's face shot. He's going to be a famous actor like everyone else. Only, he'll be successful!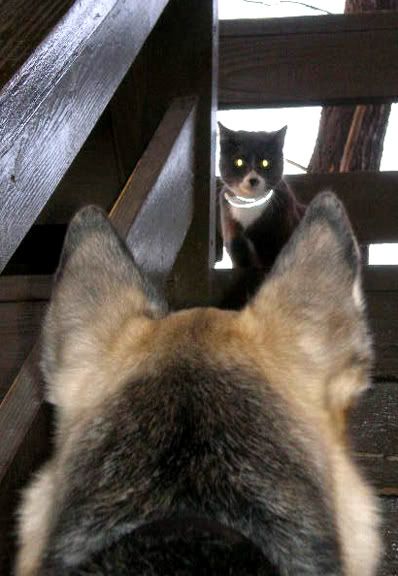 Though the eyes of a dog...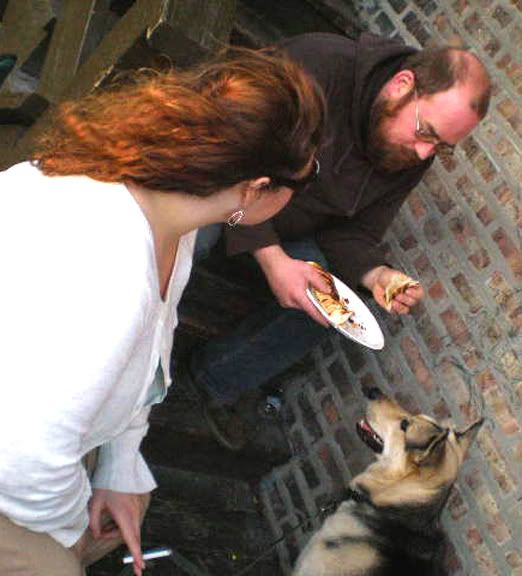 Cliff, SME, and Tennessee. One big happy family
SME at twilight.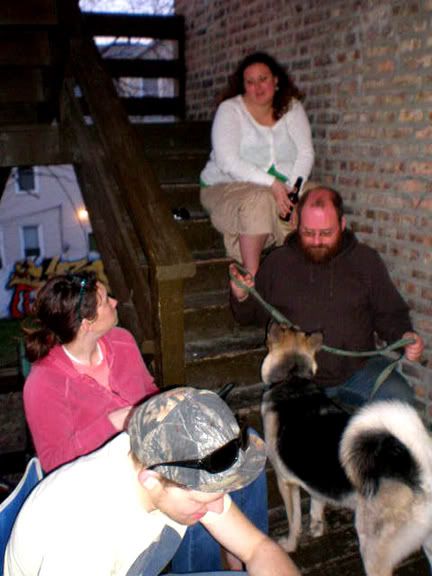 Damanda, Tyler, SME, Cliff, and Tennessee BBQing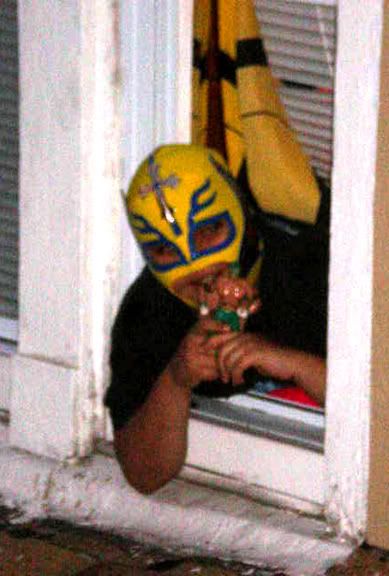 You may remember Junior from my last blog fixing his bike with me. During the BBQ, he discovered he could hang out with us if he leaned out his second floor window. Here his is in his Mexican wrestling mask and action figures. He also attacked me in the mask on North Ave. before I knew he had it too and I thought I was going to fight the 9 (?) year old. He's quickly becoming one of my favorite kids...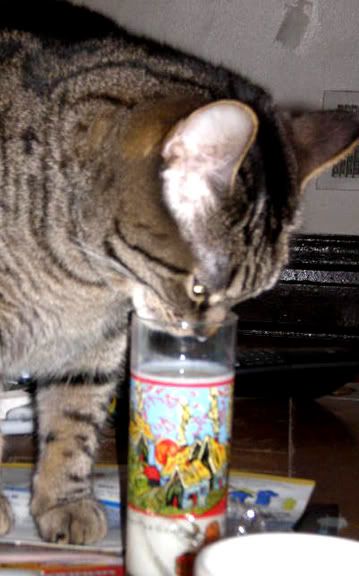 Lady showing why she's a fat 20lbs cat. Here she's stealing Nick's tall shot glass of milk...
HERE'S A COUGAR THAT SOMEHOW ROAMED CHICAGO FOR A FEW DAYS IN THE ROSCOE VILLAGE NEIGHBORHOOD, WHICH IS BETWEEN WHERE MEGAN AND I LIVE!!!