Hey Everyone,
Summer arrived in March and decided to leave in early April. But, I guess it allowed spring to visit for the rest of the month. Man, is it awesome outside. Everything is green and sunny and awesome. I can't wait for all the events Chicago is going to have this summer. There's no better place to live in the summer than Chicago!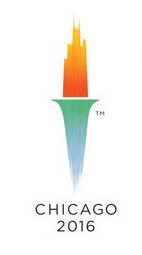 CHICAGO WINS! Well, at least we slaughtered LA is getting the right to bid for the 2016 Olympics in 2016. To me, this really is a moral victory. This was a win by a "real" city over a "fake" city. LA is fake to its core. No one is really from there. Hollywood is a industry of illusions. Celebrity is their main industry. It's not a city, but hundreds of square miles of suburban fantasy, sprawl, and automotive hell. On the other hand, we've got Chicago. There are true Chicagoans and transplants, like myself. We are an industrial, commercial, financial, and cultural powerhouse. Chicago is the greatest city in North America and one of the greatest in the world. YEAH!


Some political art in Wicker Park.
One of the saddest events to happen in my life recently was discovering the Village Theater is closed. Where else can I see first run movies for $5. I can't do that in Muskegon. Now, I can't do that even in Chicago. Another sad event was visiting the Mike's Inn MySpace page. I remember actually wanting to go to that bar. Now, it looks like all the other douchebag bars. My heart is broken...
Symphony at the Chicago Cultural Center.
Exhibit of mentally disabled people at the Chicago Cultural Center. Ruby Bradford is my new favorite artist. I'm not kidding. This is awesome and says so much more about our society than most of the blowhards in the art community.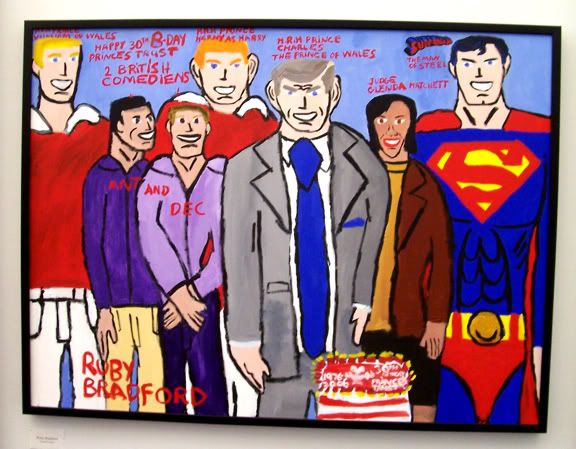 My favorite person in here is Judge Hatchett.
Nice!
I forgot who did this, but this is really good too. Actually, this whole show was really great and I wish my batteries weren't almost dead on my camera. This work is about the terror after Hurricane Katrina outside the Superdome.
Here we are at Federal Plaza planting. There's also a group of anti-war tax protesters. About three of them. Can you find them? This was just a couple hours ago and another example of why Chicago is better than your city...
Love and miss you all.
Mike
PS - Saw
Grindhouse
and it was pretty good. Robert Rodriguez is a far superior movie maker than Quentin Tarantino (And yes, I do know Rodriguez was the writer and director of the Spy Kids trilogy). Here's why, Rodriguez knows how to tell a story, be humorous, innovative, and allows the movie to be entertaining. Tarantino is self-absorbed, references and copies films without adding his own flare, and largely full of shit. I imagine when directing and watching his films, he probably is jerking off to how awesome he is the whole time. And that is why his half of
Grindhouse
was pretty boring and uninteresting.

PSS - Grindhouse may be re-released fairly soon as two separate movies because the 3+ is a bit difficult to take. Mostly because Deathproof is so disappointing with such a great premise...