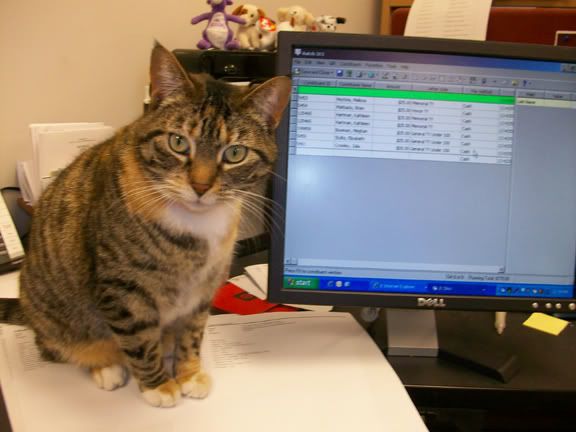 This is Moxie the Desk Cat. I've been volunteering at Lollypop Farm, the Humane Society of Rochester and Monroe County (http://www.lollypop.org/), which is a wonderful organization. They have all kinds of animals out there from cats, dogs, goats, chickens, horses, snakes, turtles and I'm sure much, much more. I have to say that I've never had pets at work before, but they are great co-workers.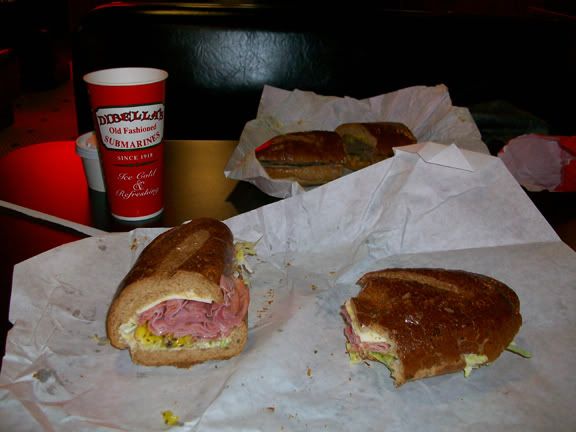 DiBella's is a local sub shop chain (Friends and family: they have one in Ann Arbor, MI if you want to try). Some really good stuff. Megan and I went there for the first time last week after a young professionals get together downtown because so many people showed up that we weren't going to eat. In Chicago, you're lucky if 15 people show up for a young professional event. Here in Rochester, there were nearly 1,000. It was pretty intense and we were wholly unprepared for that. So, we had subs instead.
HOCKEY!!!! HIT HIM!!!! For Christmas, Megan got me a ticket package for the Rochester Americans (Amerks for short) (
http://amerks.com)
. They are a part of the American Hockey League (AHL) (they play the Grand Rapids Griffins on 1/26). They are an affiliate of the Florida Panthers .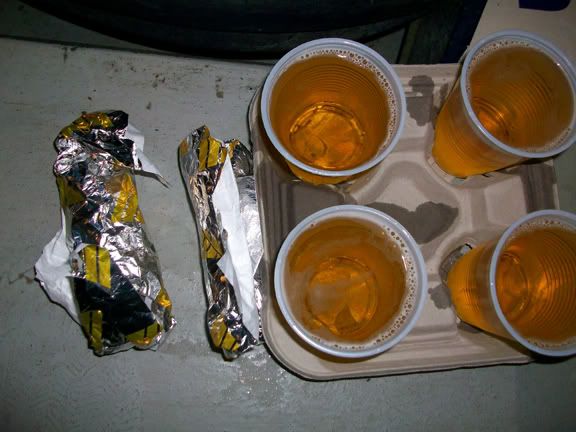 DEAL OF THE WEEK: Two Zweigle Hot Dogs (Red Hots), Four Molson Canadians, Only $6.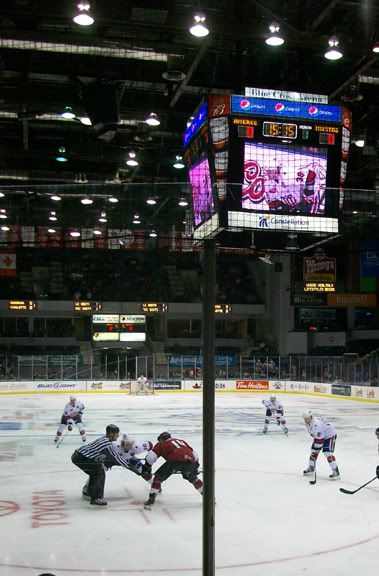 The Amerks played against the Lake Erie Monsters out of Cleveland.
FIGHT!!!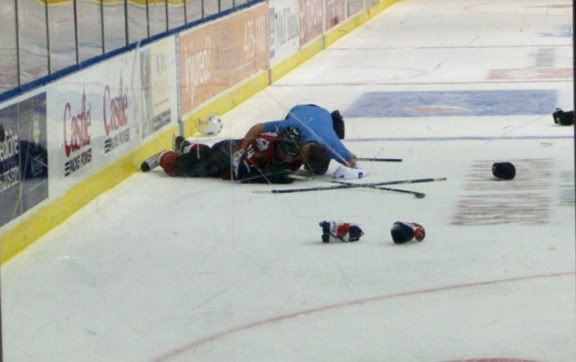 He was alright, but it looked like they were selling a lot of hockey equipment at a yard sale.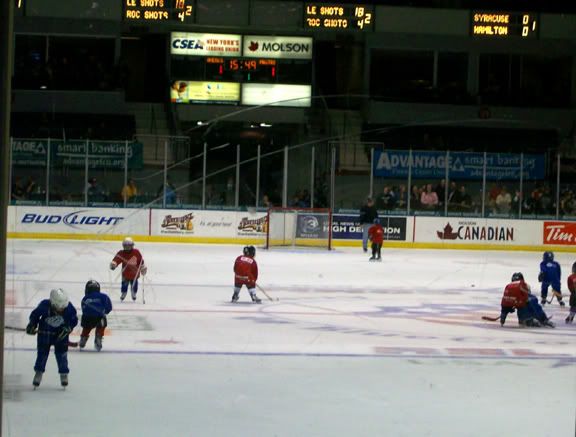 Intermission entertainment! It seemed that they put kids from the ages of 4-6 out there. One kid was the best. He would skate, stop hunched over, skate, fall, skate, stop hunched over, repeat. It took him the whole intermission to get to the other side of the rink and then the coach carried him off the ice when the Zamboni was ready.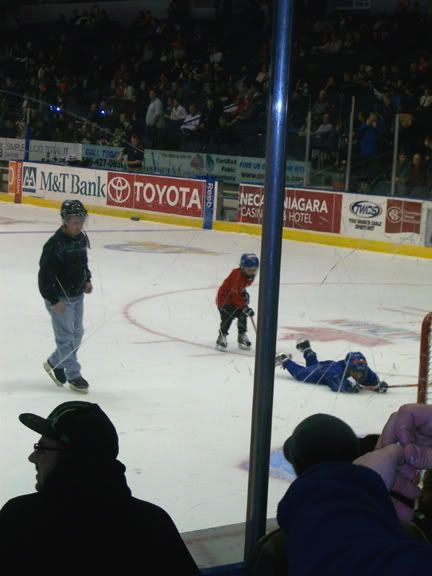 Not sure if this ended up being a goal...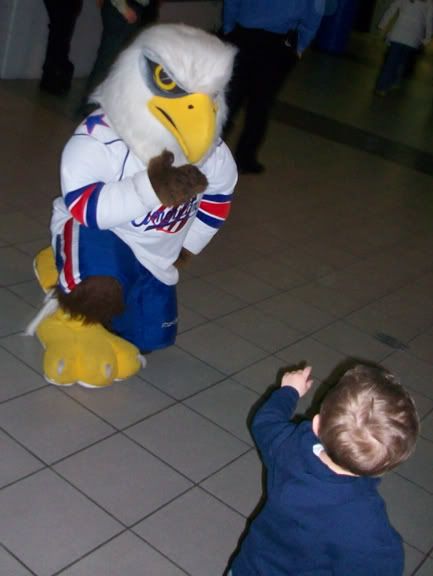 This is R. Thunder. You would think he's the main mascot, but he isn't. You will see him next.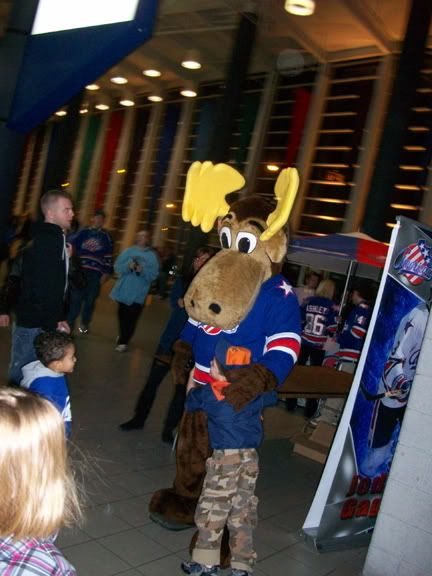 This is the Moose, which is the main mascot of the Americans. I guess they got him from a local radio station and somehow it became permanent. I think their mascot should be something like George Washington with a black eye and a missing wooden tooth. Just a thought...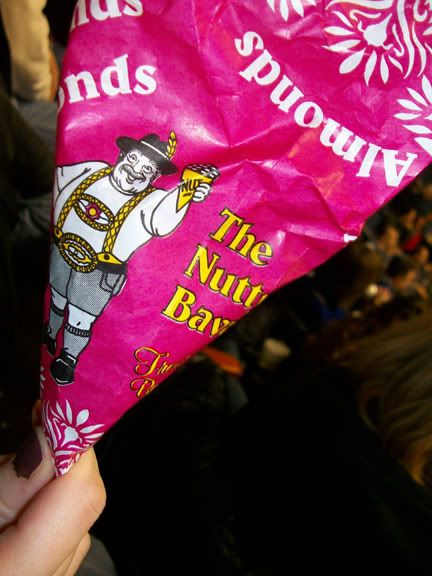 Oh the Nutty Bavarian.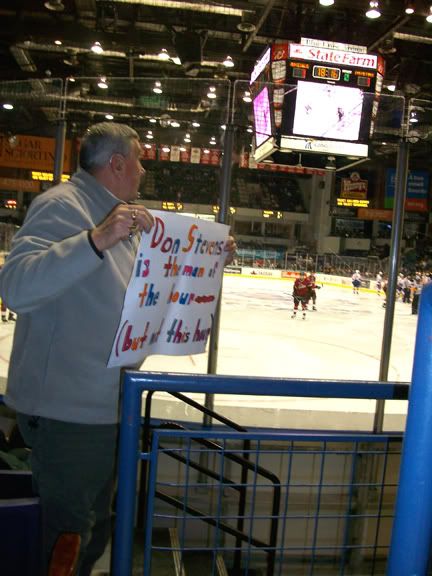 "Don Stevens is the man of the hour (but not this hour)." He's their play-by-play announcer. So, I have no idea what this is about...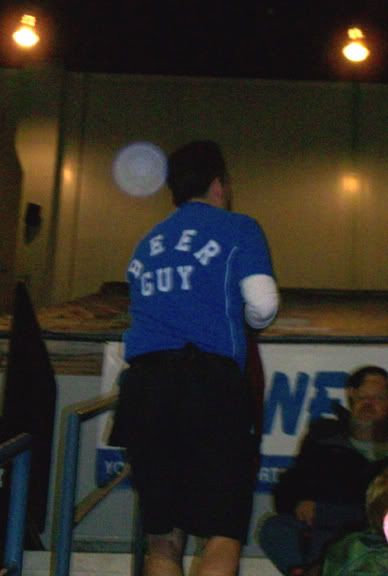 BEER GUY!!! Famous in the Bell family. So, the next time you see Megan you should ask her about the "Beer Guy Wedding."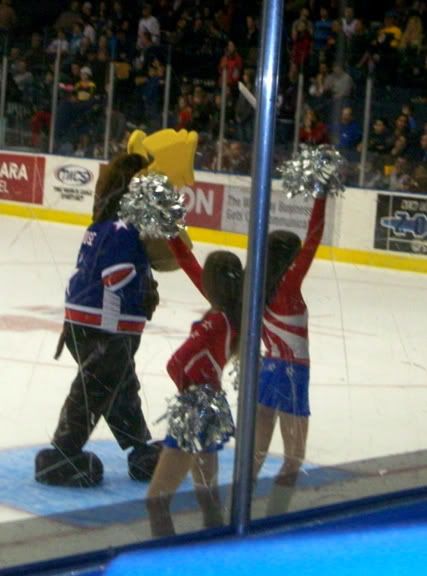 The American Spirits with the Moose. It seems they are looking for new cheerleaders and if you are interested, visit http://amerks.com/fan/spirit/.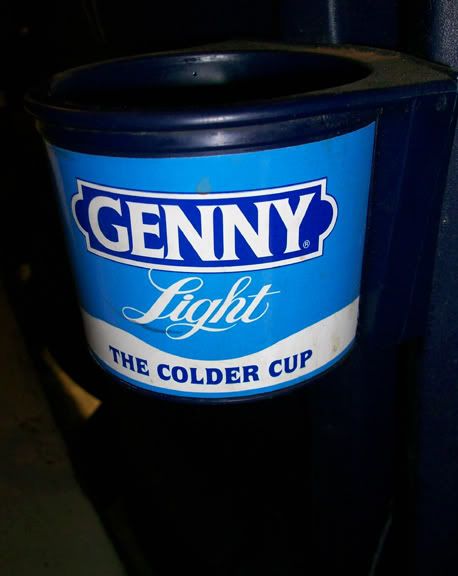 GENNY LIGHT! The local brew of choice. Interestingly enough, they don't seem to serve it at the War Memorial at Blue Cross Arena; they just advertise there...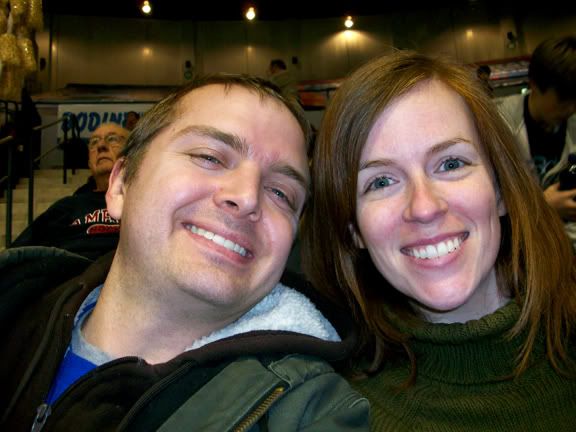 THANKS MEGAN FOR A WONDERFUL DATE! I'll see you there for game 2: against the Manitoba Moose (again the Moose is the Amerks mascot, which seems more Canadian)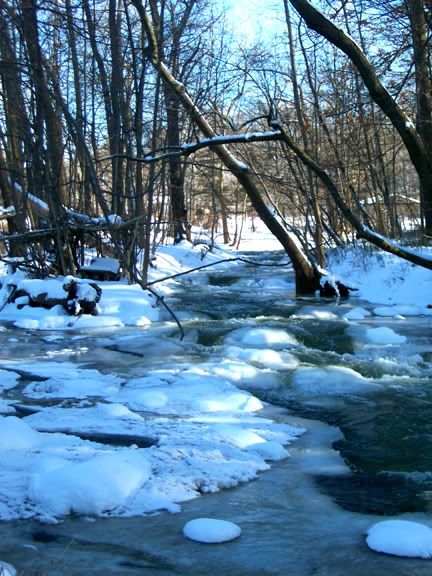 More cold and snow recently. It's been bitter, but not nearly as bitter as we've gotten use to in Chicago. So, we took a walk to check out the snow and all at Linear Park (aka Channing H. Philbrick Park) in Penfield, NY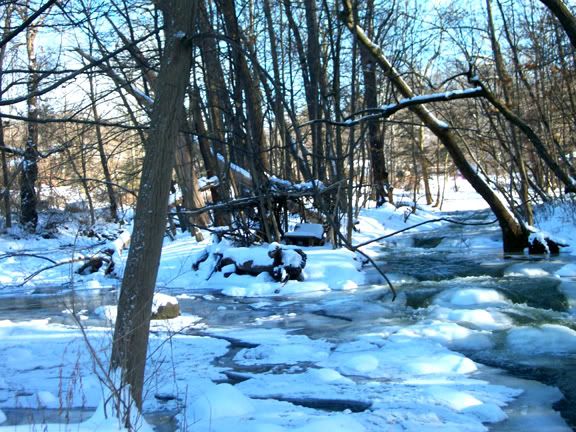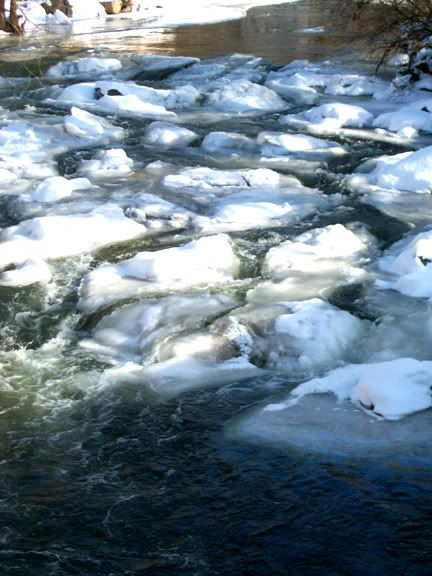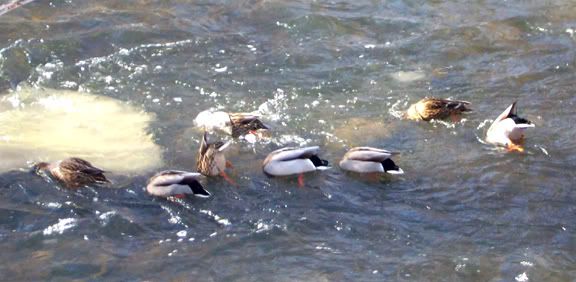 Ducks found something good to eat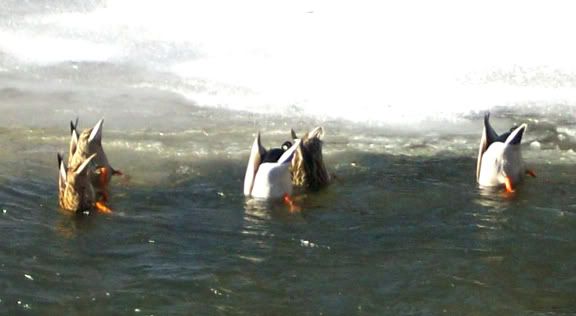 My "National Geographic shot"
That's it from the hamlet of Rochester. Not too much going on in the next week. Just volunteering at Lollypop, Megan's going to New York for a conference this weekend, and job hunting.